Salary
My regular income as a Member of Parliament in 2021 is €8,995.39 gross per month. I pay tax on this income as normal in Germany.
In addition, I receive a meeting allowance of €324.00 per day that I work in Parliament in Brussels. I receive this money to pay for the additional costs of accommodation and meals while in Brussels and Strasbourg. MEPs also have access to meeting allowances during Covid-19, but this money is drawn down to a much lesser extent because most MEPs were rarely in Brussels during the pandemic. I am sometimes offered honoraria for speeches, which I usually decline. If I accept them, I donate this extra income. In the first half of 2021, I wrote a book in my spare time, drawing mainly on my experiences as a journalist and the pictures from my self-employed days. For this book I receive a fee from the publisher, which I have indicated on my MEP page on the homepage of the European Parliament. I donate about 20,000 euros a year to charitable causes and to my party.
Personnel costs
As an MEP, I have a monthly staff budget of €25,620.00 at my disposal in 2021. This budget is used to pay the salaries and social security contributions of my current seven employees, three of whom work in Brussels, three in Berlin and one in Magdeburg. Interns are also paid from this budget, as well as the business trips or further training of my staff. It is important to me that all my staff, including the interns, receive a fair wage, so that the personnel budget is used in full. The staff budget is not managed by MEPs themselves, but by the European Parliament.
Funds for public relations
All Members of Parliament are additionally entitled to a budget for political public relations. In the past year 2020, this budget totalled EUR 48,500.00. In order to draw on these funds, each individual application must be checked for conformity with the guidelines and approved individually by the parliamentary group. I can use the approved funds for events or print products such as information brochures, for example.
General expenditure allowance
In order to be able to pay office costs and other general expenses, I will receive €4,577.00 per month in 2021, like all Members, in an account set up specifically for this purpose. I use these funds, for example, for my office rent in Berlin and Magdeburg, telephone costs for my team, hardware and software for my team, postage costs, office supplies and similar costs of this kind.
In recent years, our Green Group has repeatedly pointed out that the use of the general cost allowance is not transparent enough. However, since so far all motions to revise the rules have been rejected or have not yet been implemented, the Greens/EFA have made a voluntary commitment on 1 July 2017 to create more transparency: we want to ensure that MEPs' handling of the money from the general expenses allowance becomes more comprehensible.
You can download the commitment click here (in english).
Overview of the General Cost Allowance 2020
(general expenditure allowance, GEA for short)
Last year, my team and I used funds amounting to EUR 55,418.54 for this purpose. This overview shows what we used these funds for.
NoteThe exact amounts may still change slightly for 2020.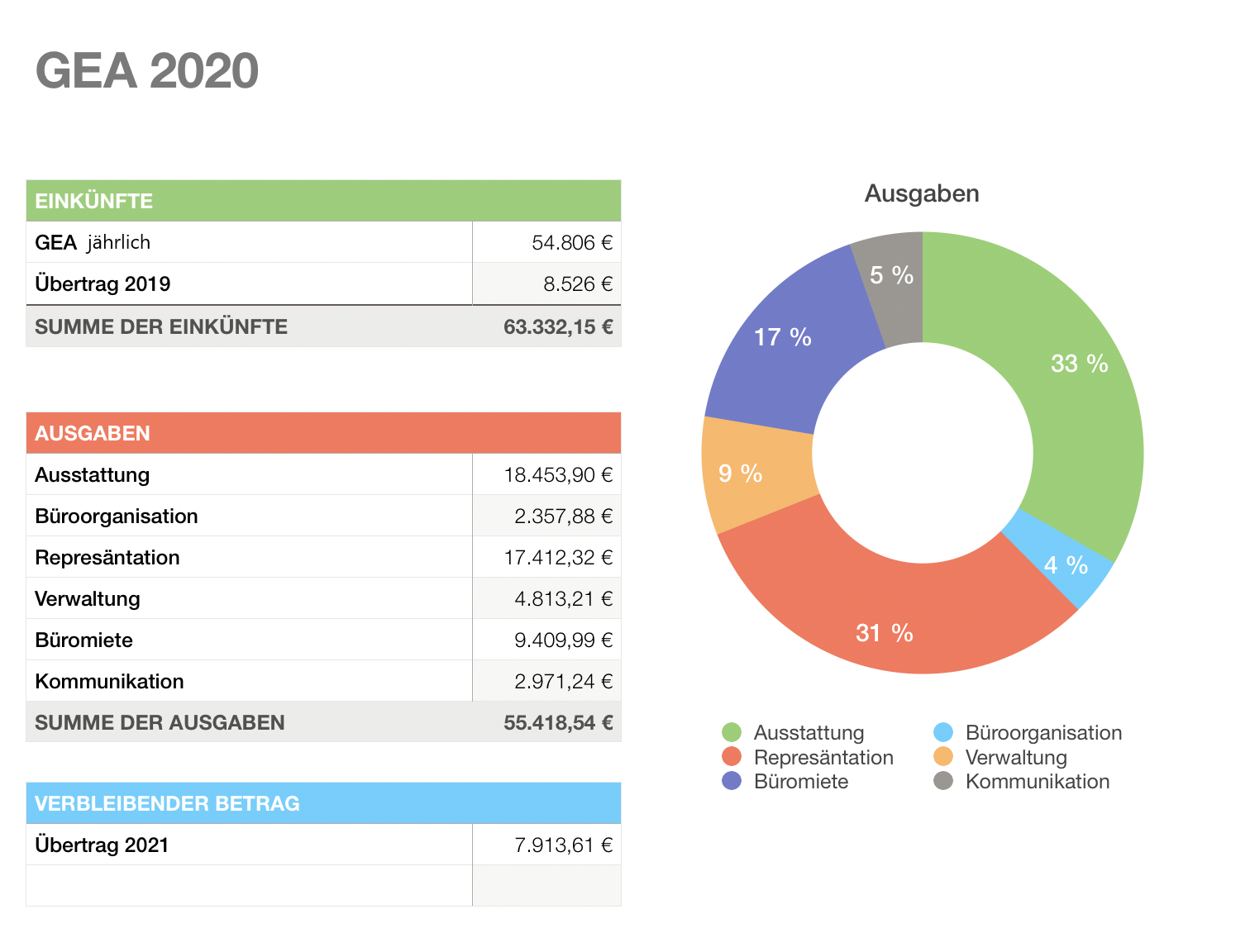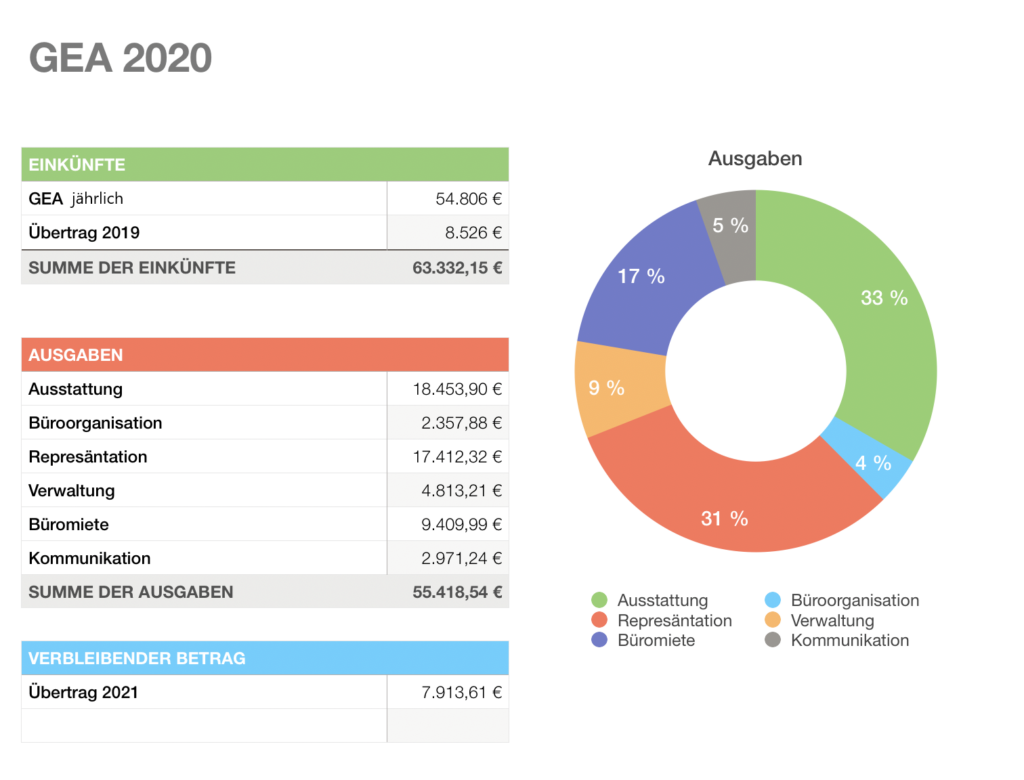 Overview of the General Cost Allowance 2019
(general expenditure allowance, GEA for short)
The budget for 2019 was €31,578.87 and is the result of payments from the beginning of the legislature mid-year through Dec 2019.