Our biggest successes in 2019 – 2023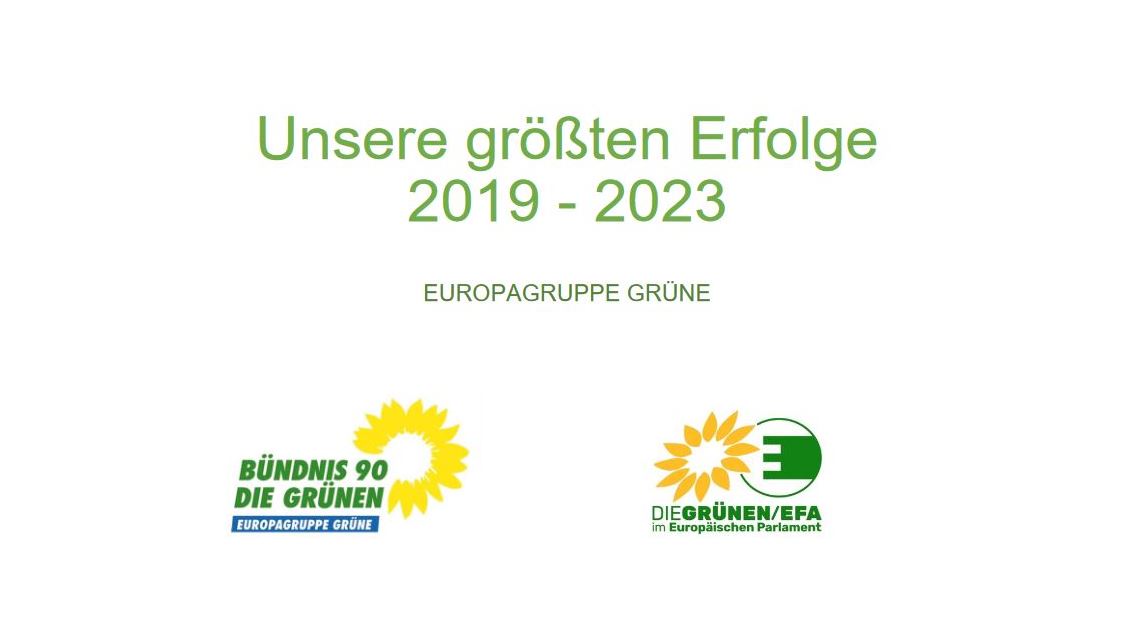 We have achieved a lot in Europe. We have put the European Union on course for climate action.
With the phase-out of combustion engines, the expansion targets for renewable energies and millions for
climate investments, the EU is doing so much to protect the climate and secure Europe's future
like never before. We are a driving force in the fight for the rule of law and democracy.
For years, we have been campaigning for the EU to prevent autocrats like Viktor Orban
simply let it happen. Now the EU is showing a clear edge for the first time, and we Greens in the
European Parliament have played a key role in this. We have shaped Europe's foreign policy
greener and safer and helped to overcome the superiority of Google and co.
tame. We are committed to a green industrial policy that is internationally competitive.
and for a Europe that offers its citizens social protection and security even in times of crisis.
cohesion. Our commitment in Europe brings tangible improvements for the
People. Our successes make life in Europe better.
We also had to make compromises and sometimes jump over our shadows in order to
to achieve any improvements at all. That was not always easy. For example, we wanted to
We need to achieve more in terms of climate targets and provide the Climate Social Fund with significantly better funding. But that
does not discourage us, on the contrary, it spurs us on. We want to make Europe better
and we will continue to do everything in our power to achieve this.
In the following overview, we have listed our most important green successes to date
summarized. We have achieved a lot together. Many other laws have been
in the pipeline. The negotiations between the European Parliament and the Council on this
are still ongoing. As soon as they are completed, we will add to our success overview.
We will keep at it and continue to fight for Europe to protect our livelihoods and our
Protecting freedom and security. You can find our greatest successes in this homepage article or also here as pdf.
1. green deal
Green European Green Deal: We have put Europe on course for climate action
After the last European elections, we Greens in the EU Parliament took up the challenge with a strong tailwind.
work to put Europe on a climate course and with great success. We are
We have taken decisive steps towards the Paris climate target. We were the driving force behind the
first EU climate law and have created a European Climate Council. With the law
to expand renewable energies, we will generate 45% of all energy from renewable sources by 2030.
produce sun, wind &CO . Translated, this means 20 new wind turbines every day
and 17 soccer pitches full of solar installations by 2030.
The law on the European CO2 price makes climate pollution expensive. Dirty
This will make coal-fired power plants uneconomical, enabling us to phase out coal across the board.
And those who heat, drive and do business in a climate-friendly way will be rewarded,
That is the recipe for building climate-neutral prosperity.

Climate Social Fund: So that climate protection benefits all can afford
For the first time in history, we have an EU fund to help poorer households with their
will support the energy transition. From 2026, a 65 million package will be used specifically to
energy and mobility poverty. Even though we would like to see more money
the fund is an important first step towards making the Green Deal more socially responsible.
It was particularly important to us Greens that, in addition to emergency aid, we also invest in long-term
mobility projects and building renovations and that national climate
Social plans should be developed together with NGOs and local stakeholders. For real
Change on the ground. With the Climate Social Fund, less affluent people can
homeowners and tenants with energy-efficient refurbishment, installation
climate-friendly heating systems or the installation of solar panels.
be promoted. The switch to e-cars and bicycles can also be promoted. So that
all can afford climate protection.
Energy efficiency: putting an end to energy waste
The new EU Energy Efficiency Directive is a centerpiece of the Green Deal and a prerequisite for
for achieving our climate targets. We Greens have achieved that there is a higher and
binding efficiency target, which is backed up by strong control mechanisms.
By 2030, more than eleven percent of energy consumption in the EU must be reduced.
This is equivalent to the energy consumption of Spain. This not only saves emissions, but also
cash. In addition, we Greens were able to introduce binding measures to combat the
Fighting energy poverty. In the future, the Member States must in particular
Support 30 million Europeans in energy poverty.
Drive turnaround in Europe: end of combustion engines and EU-wide charging stations
We Greens have not only fought for the end of the combustion engine by 2035. We have
We also successfully campaigned for citizens throughout Europe to be able to use the
electric car on the road without fear of breaking down. By 2026
EU member states on main traffic routes at least every 60 kilometers.
fast-charging stations for electric cars - by 2030 this will also apply to
branch lines. We Greens have also put an end to the confusion of store columns in Europe.
prevented. Charging prices must be quoted uniformly in kilowatt hours throughout Europe
and payment can be made anywhere by card. Charging electricity will be so easy in future
is like refueling. By 2030, charging stations must also be available for trucks on all main transport routes.
60 kilometers, to be installed every 100 kilometers.

EU budget: One third for climate and nature conservation in Europe
If we want to meet climate targets and stop the biodiversity crisis, we need to change financial flows.
We Greens have managed to successfully negotiate this into the EU budget. Without
there would be no green criteria in the EU budget and the EU reconstruction fund.
At least 30% of the total amount of the EU budget and the Corona Recovery Plan
must now be spent on climate investments. This corresponds to at least 550
million euros for the expansion of renewables or the establishment of a climate-neutral
Industry.
We have also negotiated a biodiversity quota into the budget. From 2024
7.5% and, from 2026, 10% of annual expenditure must be allocated to the Union's objectives in the area of
of biodiversity. The money will be used to restore damaged ecosystems
renaturalized or protected areas expanded.
Regional promotion: greener and more feminist than ever before Thirds for climate and nature conservation in Europe
We Greens have supported the single rulebook for European regional funding, the
Common Provision Regulation (CPR). This involves a
legislative package, which comprises eight funding pots and with which over €600 billion in Europe
be invested. European regional funding is now as green and feminist as
never before. Green successes are above all: no climate-damaging investments through
Regional funding ("do no significant harm" principle); at least 30% of the regional fund
ERDF and 37% of the Cohesion Fund must be spent on climate protection;
Anchoring the promotion of gender equality; more citizen participation
through bottom-up approaches. Around one third of the entire EU budget flows into the
development of the regions. That is why it is so important that this money is truly sustainable.
and creates more justice in Europe.
Protecting waterfowl: Ban on lead ammunition more green and feminist than ever before
Every year, more than one million waterfowl die directly or indirectly from lead ammunition.
Because lead is highly toxic. Nevertheless, we Greens had to overcome a lot of resistance to get the
ammunition, at least in wetlands, even though alternatives have long been available.
exists. The international agreement on the protection of waterbirds has been in force since 1999.
EU and its member states are obliged to ban lead ammunition in their territory.
wetlands. However, this requirement has only been implemented in isolated cases, including
Germany under CDU Agriculture Minister Klöckner stepped on the brakes. The fact that lead ammunition
in wetlands has now been banned since 2022 is also due to the dedicated efforts of us
Greens. We did everything we could to overcome the objections of the right-wing conservatives.
ECR Group in the European Parliament, which was aimed at stopping the ban.
overturn. Next, we are now campaigning for a complete ban on lead ammunition.

2. Sustainable and socially responsible business
A single charging cable
From summer 2024, everyone in the EU will finally be able to use their cell phones, laptops and digital cameras with the
the same, standardized USB-C charging cable. This saves resources, protects the
climate and the nerves of consumers.
This means an end to the cable clutter in our drawers and is an important step
Towards a circular economy. With clear specifications for a standard for wireless charging
the standardized charging cable will keep pace with technical developments.
As Greens, we have fought in particular to ensure that consumers in future
electrical appliances and charging cables separately. With the new law, a
ten-year process comes to an end. From next year, citizens across Europe will be able to benefit from
benefit from the fact that the standardized charging cable makes our everyday lives easier.

Batteries: More sustainable and finally replaceable
Glued in the housing, hardly any recycling and human rights violations in the supply chain.
These are batteries. But the new battery regulation provides a remedy. Smartphone batteries
and light vehicle batteries must be interchangeable in future. We Greens have
successfully used for stricter rules. Products are therefore repairable and live
longer. Batteries for electric cars are also becoming more sustainable. We are pushing for higher
Recovery rates for lithium. High recycling rates in batteries ensure that
the valuable raw materials are not lost. For cobalt, nickel, copper and lead, they are
at 95 % by 2032. This enables an honest circular economy. With the tightened
Due diligence obligations along the supply chain, we Greens ensure that raw materials in batteries,
sold in the EU are mined in an environmentally friendly and socially responsible manner.
Rules for big tech: more freedom of expression, less hate speech
In our online world, a few very large platforms have the power to influence our
fundamentally influence society. In doing so, they are endangering our democracy.
In the face of fierce opposition from Google and Facebook, we Greens in the European Parliament
Parliament has fought tenaciously to ensure that the Digital Services Act (DSA) will enable us to combat
the dominance of the dominant digital platforms. With this basic law for
Internet, we have created a global standard that guarantees freedom of expression online.
limits surveillance and provides the crucial basis for the fight against terrorism.
hate and agitation, disinformation and conspiracy ideologies.
Big tech companies must now regularly assess the risk posed by their algorithms.
for society - and propose countermeasures. Under pressure from the Greens
scientists and NGOs will have access to the platforms' data in the future,
to research the mechanisms and make them public.
Data protection-friendly: Single market for data
From artificial intelligence and health research to alternative providers for
Train and bus tickets: they all require vast amounts of data. But where data is stored,
also raise questions about data protection and privacy. Thanks to our green
Negotiations on the European Data Strategy remain in the interests of
Consumers protected. As part of its data strategy, the European
Commission launched the Data Governance Act and the Data Act,
which should make more data available, especially for the economy. We Greens have advocated this
ensured that data subjects can now assert their rights under this data strategy
can. As a result, consumers benefit from more freedom of choice when it comes to data services,
receive support from data cooperatives and with the release of data on
non-profit research purposes.

Chips Act: Semiconductors for a green industrial policy
Nothing works in our digital world without chips. They are in smartphones, cars,
Washing machines, heat pumps. However, the industry continues to suffer from chip
bottlenecks. This is now set to change: The EU's "Chips Act" is boosting semiconductor production
in Europe and is a key green industrial policy instrument for the future.
sustainable management. In addition to large-scale megaprojects, the Chips Act also
Start-ups and small and medium-sized enterprises are promoted and given targeted support – for this purpose
We Greens have expressly campaigned for this. It is also a clear Green success that with
the Chips Act, the focus is on environmentally and climate-friendly production of semiconductors.
and the circular economy. Faster approval procedures for
Production capacities in the EU must not be at the expense of environmental impact assessments
go. In the future, the development of a competitive EU semiconductor sector with
be strongly supported with fresh money.

3. International
Feminist foreign policy: women at the negotiating table
Foreign, peace and security policy is still a male domain worldwide.
Yet there is ample evidence that peace agreements last longer when women
are involved in the negotiations - and that societies are more peaceful when
equality prevails. We Greens therefore have feminist foreign policy firmly in the
EU policy agenda. Central Green demands were included in the "Gender Action
Plan" of the EU Commission and the European External Action Service. It
stipulates that at least 50 percent of management posts in EU institutions should be held by women.
be filled. In addition, by 2025, 85 percent of all new projects funded by EU
external relations contribute to gender equality. In particular
we Greens have also campaigned for the cabinet of the EU ambassador for
to increase staffing levels for equality and diversity in the European External Action Service - with
Success.
Global Gateway: Sustainable engagement in the world
The connectivity strategy "Global Gateway" - together with the Green Deal and the
Strategic compass - as one of the three main pillars of European foreign policy.
We Greens have played a key role in shaping it. Global Gateway attaches particular importance to the
Cooperation with like-minded partners such as India, Japan, ASEAN and the USA and
can be seen as a counter-proposal to the "New Silk Road Initiative" of the authoritarian system rival
serve China. Our commitment highlights green and sustainable issues
emphasized more. Examples include sustainable investments in international infrastructure, such as the
laying of fiber optic cables in the Atlantic, and the implementation of the digital and green
transformation, for example through the construction of solar and wind power plants in Africa and Asia,
Core elements of the strategy. We Greens have ensured that ecology, climate protection and
Human security as important criteria for European global engagement
can be used.
Green Deal Western Balkans: Less dirt thanks to air filters
The Green Deal in the Western Balkans is also one of the successes of this legislature. There are still
16 coal-fired power plants are active, which are directly responsible for over 10,000 deaths in the Balkans and the
neighboring EU countries. These 16 power plants emit
together emit more sulphur dioxide than the 256 still in operation in the EU. Therefore, for
our group is supporting negotiations on the mandatory introduction of air filters at the highest level.
priority to find a temporary solution to this major problem. The following have now been
76.4 million via the EU Commission's Instrument for Pre-Accession Assistance for filters on the
Kosovo B power plant. These will also improve our air quality in Germany.
significantly until we have finally succeeded in phasing out coal completely.
The Green Deal for the Western Balkans has become an integral part of the European Green Deal.
deal, which has become a reality by tackling the environmental problems there that fall on the EU.
must be achieved.

Visa-free travel for Kosovars
After many tough discussions, we made a long overdue decision this year.
from January 1, 2024, Kosovars will be able to enter the Schengen area without a visa.
territory. The visa-free regime brings long-awaited benefits for the people of Kosovo.
freedoms and is a further step on the way to a European future of the
the entire Western Balkans. The current resurgence of tensions between
Serbia and Kosovo how important it is to consolidate the cornerstones of democracy. It is about
for peace and stability in times of disregard for territorial integrity, recognition
sovereign states and the acceptance of Kosovan independence.
4. democracy and values
No EU money for autocrats: Clear edge against Orban and Co
Anyone who tramples on European values will get the receipt from Brussels. That has
Hungary's Prime Minister Viktor Orban is now finally feeling the effects. Since December 2022
almost 28 billion euros in EU funds for the Orban government. The reasons: Massive
Corruption, blatant violations of fundamental rights, destruction of the rule of law.
The European Parliament has (co-)created the legal basis for this, so that the
disbursement of EU funds is linked to respect for European values. This is
a Green success. We have never let up in the negotiations with the Member States.
And we have increased public pressure on Commission President Ursula von der Leyen
to finally take action against Viktor Orban. For him, the motto now is: EU-
Funds will only be available in full once democracy is functioning again.
No means no: EU joins the Istanbul Convention
One in three women in the EU has experienced sexual violence since the age of 15, the
is a bitter reality. The fact that the EU has now joined the Istanbul Convention is a
huge success. The Convention is a comprehensive and effective
legal instrument to prevent and combat violence against women and domestic violence.
and to protect the victims. It recognizes that violence against women is a
violation of their human rights. It provides for measures aimed at preventing
of violence against women, the protection and support of victims and the prosecution
of the perpetrators. We Greens have been fighting for this in the European Parliament for years,
that the European Union accede to the Istanbul Convention - and we did it.
Frontex monitoring: Fundamental rights monitoring shows effect EU
The new Frontex Regulation came into force at the beginning of the legislative period. The protection of
fundamental rights, the new regulation does not go far enough to ensure the participation of the
European border protection agency in pushbacks and human rights violations at the
European external borders. However, we Greens were able to ensure that
the fundamental rights officer of Frontex is strengthened and 40
fundamental rights observers to monitor Frontex operations. This enables us to
to ensure that the arbitrariness and violence at the external borders, which primarily affects refugees
is becoming increasingly difficult to conceal. The first results of our painstaking work on
We have already seen how the Border Guard Agency has been able to protect fundamental rights. For example, after
Frontex chief resigned following various scandals and we were able to find a permanent
Establish Frontex monitoring group in Parliament.
New EU Anti-Racism Coordinator

In the fight against structural and institutional racism, we Greens have concretely
measures initiated and implemented. Against anti-black racism, the UN 2025 called for
International Decade for People of African Descent. Our demand in the
The "EU Action Plan against Racism 2020-2025", an anti-racism
Coordinator in the EU Commission and also to establish this position with a
person with their own experiences of racism was successfully implemented in 2021.

5 We have also achieved the following
Ukraine war: special tribunal against Putin
We Greens have called for a special international tribunal against the
Russia's political and military leadership into a parliamentary position. This has
enough pressure on the governments, which are now working on a realistic solution under international law.
Organization of this tribunal to punish the Russian war crime of aggression
work.

Minimum Wage Directive: Fair wages
"Poor despite working" is finally to be tackled with the minimum wage directive. EU countries
are now obliged to guarantee fair wages, with 60% of the gross median wage as the
should apply as a guideline. Around 25 million employees would benefit from this. In addition
Develop action plans for countries with tariff commitments under 80%.

Supply chains: protecting the green lungs
Every year we set new deforestation records worldwide – a breakthrough is the law
for deforestation-free supply chains, which we as the Greens have resolutely promoted. It
stops the import of products that contribute to deforestation and thus protects the climate, the
Biodiversity and our forests.

Shipping: sustainable for the first time
We Greens have made maritime shipping responsible for climate policy for the first time.
The days of free passes are over. Greenhouse gas emissions from large ships are being
EU Emissions Trading Scheme (ETS). In future, fuels used in maritime shipping will have to be
more sustainable and the air in ports cleaner.

Marine protection: Greens get negotiations moving
On the initiative of the Greens, the EU Parliament has voted in favor of stronger marine and maritime protection.
species protection policy. Thanks to these clear words, there was movement in international
Negotiations: after years of negotiations, both the Biodiversity Summit
COP15 to adopt a new global framework for species conservation, as well as the
United Nations Convention on the High Seas.
Truck toll: road pays rail
With regard to the HGV toll directive, we Greens have campaigned for the toll to be more
is linked to CO2 emissions. This is now leading to a green achievement in the federal government.
In future, the additional revenue from the truck toll will be used to expand the rail network.
cross-financed. For the first time, money is flowing from road to rail.

Eliminating the gender pay gap
On average, women in the EU still earn almost 13 percent less than men, in
Germany even around 18 percent. With the directive on wage transparency, we Greens have
ensured that companies will disclose payment differences in the future and
have to give reasons.

70 billion euros for global poverty reduction
With the NDICI-Global Europe, we have overcome the confusing EU instruments of the
development cooperation. In tough negotiations, we were able to
prevent the money from being used across the board to prevent migration. So
will ensure that more than 70 billion euros will continue to be earmarked for poverty reduction and
sustainable development.

Spyware: Parliament wants clear limits
The PEGA Committee of Inquiry, set up under pressure from the Greens/EFA, presented
Comprehensive recommendations against the misuse of surveillance and spying software
before. Parliament sets clear limits for the Member States in terms of monitoring and calls for
The EU Commission has submitted a legislative proposal on victim protection.

Joint crisis instruments and investments in the future
The establishment of the Corona Recovery Fund and the SURE short-time work program are
Expression of long-standing Green demands. The EU must stand together and
investing together. During the pandemic, we have succeeded in finding new economic
to go. Both programs have been a complete success. They have boosted our economy and the
stabilized the labor market and paved the way for joint investments in the future.

Consumer*internal protection for loans
Loans on the internet can be associated with high costs, even if these are not always apparent at first glance. With the Consumer Credit Directive, we Greens were able to ensure that consumers are better protected against this. What looks like a loan will also be treated like a loan.
EU Conference on the Future: Largest citizeninner Council of Europe
We stand up for European democracy. On the initiative of the Greens, we have
largest citizensing Council for Europe. 800 Europeans drawn at randominside
have put forward proposals for a democratic EU in the context of the EU Conference on the Future,
a powerful Europe. Now it's time to implement and amend the EU treaties.

Space debris: sustainability in orbit
We Greens have succeeded in introducing binding sustainability criteria in the ordinance for the
IRIS² satellite constellation - for the first time in the history of the
European space travel. This is intended to prevent space debris in orbit and the
Reducing light pollution and creating stable and secure communication
become