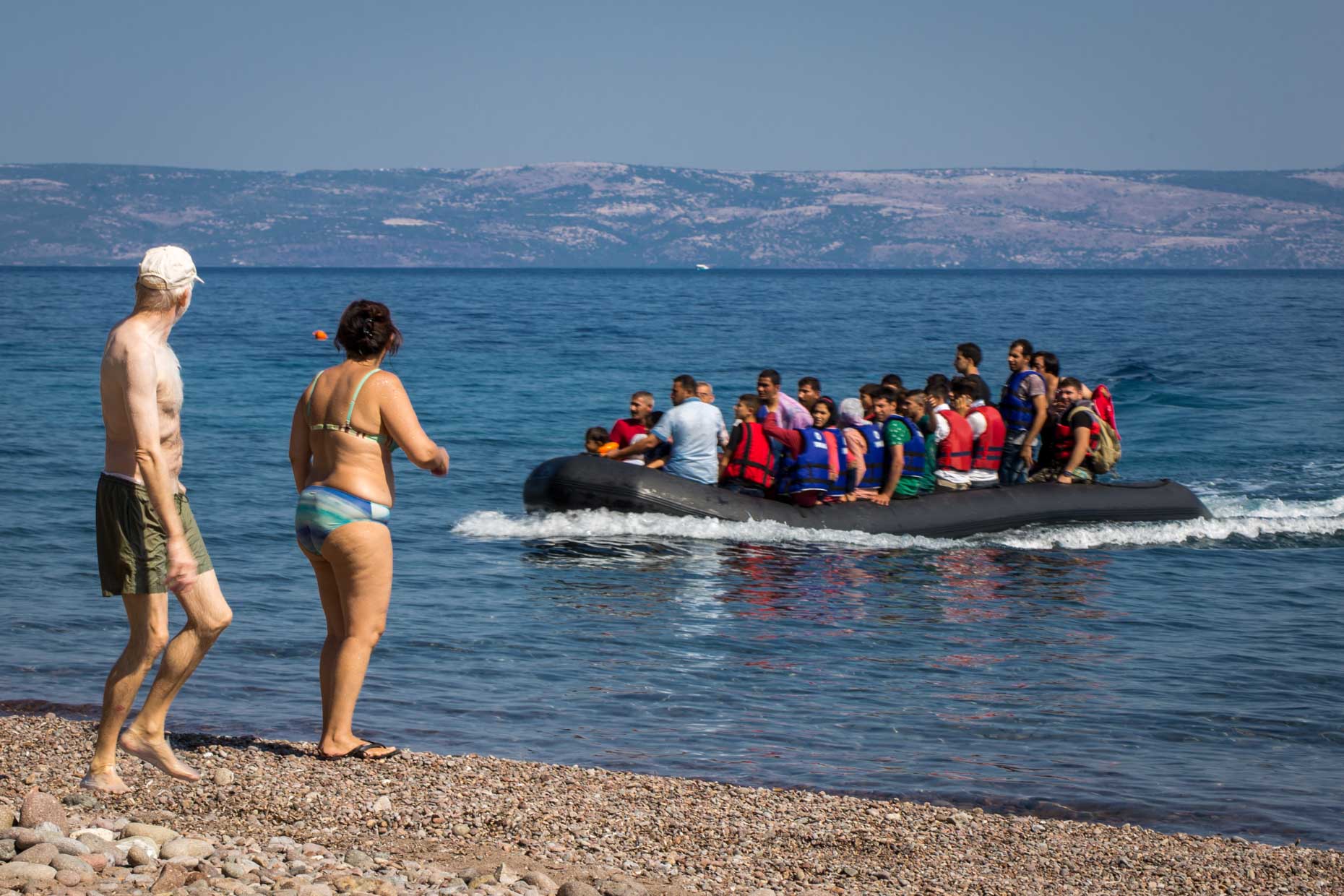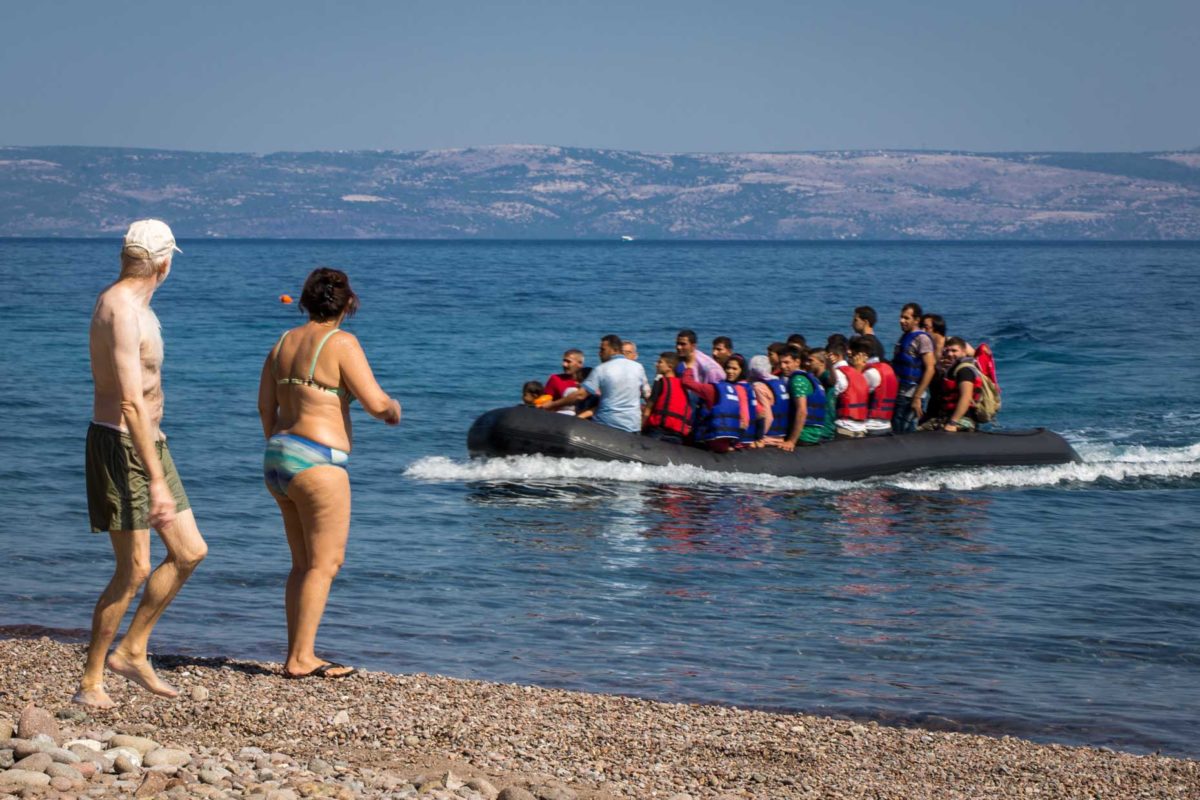 Here I inform you daily about everything that is happening in European asylum and migration policy and at the external borders.
The Border-News is also delivered daily directly to your mobile phone: Here's the link to the Telegram-Channel.
2.12.2021: EU Commission wants to make access to asylum at external borders more difficult +++ MEPs criticise prison-like refugee camps in Greece +++ Press freedom at EU external borders to be restricted
1.12.2021: Frontex translator pushed into Turkey by Greek border guards and mistreated +++ Around 10000 people still want to reach Poland via Belarus +++ Refugee councils demand stop of deportations to Ethiopia
A Frontex interpreter reported that Greek border guards mistook him for an asylum seeker, assaulted him and then forced him across the border into Turkey along with dozens of refugees. He said he and many of the protection seekers he was held with were beaten and forced to undress, and that police confiscated their phones, money and documents. His attempts to tell the police who he was were met with laughter and beatings. The New York Times reports.
11/30/2021: Over a hundred security forces killed or disappeared in Afghanistan +++ New Yorker details Libyan torture camps +++ Greece opens closed camps on Leros and Kos
The Taliban leadership had promised a general amnesty to former security forces. A report by Human Rights Watch (HRW) now documents over a hundred cases in which security forces have been murdered or disappeared.
In this one-minute video, HRW describes the situation.
Here you can find the 25-page report by HRW (English)
Spiegel Online summarizes the results
29.11.2021: British police resist government pushback plans +++ Another death on Belarusian border +++ People take action in front of Reichstag demanding immediate reception of refugees on Belarusian border
11/26/2021: Iraq brings back 617 more citizens from Belarus +++ Switzerland could soon hold a referendum against Frontex expansion +++ ECHR rules: Croatian police guilty in death of 6-year-old girl
A referendum against the expansion of Frontex could soon be held in Switzerland. As a member of the European Parliament's Frontex Inquiry Group, I spoke with them about problems and mismanagement at the EU's largest agency. You can read the interview here.
Madina Hussiny died at the age of six when Croatian police denied her and her family the right to apply for asylum in 2017, forcing them to return to Serbia on foot, where the girl was hit by a moving train. After four years of litigation, the European Court of Human Rights has now ruled that the Croatian police were to blame for Madina Hussiny's death. The Guardian reports.
11/25/2021: 27 dead in the English Channel +++ German government continues to fail to evacuate local Afghan forces +++ Human Rights Watch accuses Belarus and Poland of serious human rights violations
11/24/2021: 25-year-old Iraqi dies north of Guben +++ Poland, Lithuania and Latvia receive 200 million euros from the Commission +++ Belarus deports protection seekers to their countries of origin
11/23/2021: Croatian police restrict press freedom by arresting German journalist +++ Greens demand reception of people at Polish EU external border +++ Sea-Watch 4 rescues over 480 people
32-year-old Abdullah Aryan came to Germany from Afghanistan on an evacuation flight. His escape almost failed due to German bureaucracy, but thanks in part to the Kabul Airlift, the former Bundeswehr and GTZ translator was able to be evacuated. He tells his story in Der Spiegel (paywall).
19.11.2021: Situation in Belarus still unresolved for many protection seekers +++ Sea Watch 4 rescues people from distress at sea and is threatened by Libyan coast guard +++ My interview with DLF Kultur on the trial of Sean Binder, Sarah Mardini and co.
18.11.2021: Trial of sea rescuers in Greece postponed +++ Frontex helps deport Iraqis from Belarus +++ Ten people die in a wooden boat off the Libyan coast
17.11.2021: Thousands of fugitives at the Polish border spent the night in a warehouse +++ World Organisation against Torture criticises criminalisation of human rights activists +++ In Greece, the detention of refugees is becoming the new norm
The World Organisation against Torture (OMCT) accuses Spain and Morocco of deliberately criminalising human rights activist Helena Maleno. The founder of the aid organisation "Caminando Fronteras" (Border Crossings), who lives in northern Morocco - is one of 20 cases from eleven countries examined in a report published in Geneva entitled "Europe: Open Season on Solidarity".
You can find the whole report here.
The taz reports about the attacks against Helena Maleno.

In Greece, the detention of refugees has become the new norm, criticize the Greek Refugee Council and Oxfam. According to EU directives, administrative detention should only be used when all other means have been exhausted. Escape is not a crime.
11/16/2021: Poland uses water cannon and tear gas against people seeking protection +++ Reports from the exclusion zone between Belarus and Poland +++ More than 84 million people fleeing worldwide
This morning, Radioeins interviewed me about the situation in Belarus. In it, I say that we, as the European Union, must not allow ourselves to be blackmailed, nor must we suspend fundamental human rights, freedom of the press and our values, just because people are standing at our external borders and want to apply for asylum. You can listen to the 5-minute interview here.
11/15/2021: Liveticker on situation at Polish-Belarusian border +++ Kabul airlift rescues 148 people on donor-funded plane +++ Eight people die off Canary Islands
People have run from the temporary camp in Belarus to the border crossing and are now face to face with Polish border guards. EU foreign ministers are meeting in Brussels to discuss further sanctions against Belarus and dictator Lukashenko now claims he is trying to repatriate people to their home countries. Iraq is also offering a first repatriation flight for people on the Belarusian-Polish border. The Frankfurter Rundschau has created this news ticker to keep you up to date.
I am convinced that, in this situation on the Belarusian border, we must rely on a coalition of states that are willing to accept people, which must, of course, include Germany. We also need safe and orderly escape routes so that people no longer have to rely on smugglers in future and a system of state smuggling, as operated by Lukashenko, no longer attracts so many people. I spent half an hour talking to the Tagesschau about possible solutions....
12.11.2021: Thousands of people at the border to Poland urgently need help +++ taz and Spiegel show how Lukashenko operates state smuggling +++ Bulgaria is also increasingly becoming a transit area for refugees
A taz evaluation shows: Twice as many flights from states that are countries of origin or major routes for refugees land in Minsk than in the pre-Corona year of 2019.
11.12.2021: Thousands of people freeze at external border with Belarus +++ 329 people flown out of Afghanistan on charter flight +++ Cyprus to suspend processing of asylum applications
11/10/2021: Green MPs on Belarus border +++ Afghan air traffic controllers sue federal government +++ Pastor sentenced for church asylum
09.11.2021: On the day of the fall of the Berlin Wall, activists bring aid to the EU's external border +++ Seehofer calls for a new iron curtain in Europe +++ Poland uses tear gas against people seeking protection
On the day the Berlin Wall came down, Interior Minister Horst Seehofer called for Poland not to be criticized for protecting its borders "with permissible means" despite its serious human rights violations and illegal pushbacks. He also welcomed the construction of a fortified border fortification...However, Seehofer will not be Interior Minister for much longer.
11/08/2021: "Mauerfall Jetzt" calls for a humanitarian corridor from Belarus +++ Lukashenko wants to drive even more people to the border with Poland +++ Women's rights activist murdered in Afghanistan
11/05/2021: At least three dead around Calais +++ Belarusian soldiers threatened to shoot at Polish soldiers +++ MEP watches pushback by Greece
04.11.2021: Sea-Eye 4 and Rise Above rescue more than 400 people in the Mediterranean during the night +++ More than 400 people rescued from distress in the English Channel +++ Taliban ban use of foreign currency
The Taliban banned the use of all foreign currency on Tuesday. They are reacting to the shortage of foreign currency in the country, which was triggered by de facto sanctions. The US government, the World Bank, the International Monetary Fund and European central banks froze Afghan foreign assets after the Taliban took power.
03.11.2021: Sea-Eye and Mission Lifeline rescue 397 people +++ More and more Afghans choose life-threatening flight across the Mediterranean +++ Berlin takes in Syrian protection seekers from Lebanon via reception programme
The rescue ships Sea-Eye and Rise Above of Mission Lifeline received a distress call from the AlarmPhone on Tuesday night. By Tuesday morning, the crews of both ships were able to save 325 lives from a total of 5 boats. Earlier in the morning, the two ships were called to another sea rescue case involving 72 people crowded on a wooden boat. There are now 397 survivors aboard the Sea-Eye 4. Read more at the Homepage the Sea-Eye and at Sea-Eye on Twitter.
02.11.2021: Poland does not allow medical aid to reach people in need of protection +++ Discussion with among others Linda Teuteberg (FDP) and me at Bild Live +++ About 400 people in distress at sea finally allowed to dock in Kos after hours of waiting +++
I discussed the situation at the border between Poland and Belarus and what an upcoming federal government must address in migration policy with Linda Teuteberg (FDP), among others, on Bild Live. You can find the show here.
29.10.2021: Kabul airlift evacuates 579 people +++ 75 percent of Afghans who appeal against rejection of asylum application are proven right in court +++ Saxon police discover body of Iraqi refugee
More and more asylum seekers who appeal against the rejection of their asylum application in Germany are successful in court. In the first half of 2021, 35.1 per cent of all appeals before the administrative courts that were decided on the substance ended in favour of the refugees. Refugees from Afghanistan receive as much as 75 per cent of the rightwhich indicates that the Bamf systematically makes wrong decisions here.
09/28/2021: Germany abandons thousands of local workers +++ Kretschmer (CDU) promotes border wall +++ Doctors Without Borders brings 367 rescued to Palermo
Der Spiegel has done extensive research... analysed the violations of the law at the European external borders and showed the systematics with which those seeking protection are kept away by force. They also spoke with those affected and tell how they were brutally and unlawfully pushed back. An alternative to the isolation would be resettlement.
Oct 27, 2021: Four children drowned in the Aegean +++ Doctors Without Borders rescues 367 people and needs a safe haven +++ Poland allows pushbacks by law
10/26/2021: Poland increases number of soldiers to 10,000 +++ Commission won't fund walls at external borders +++ Mediterranean route shifts to Calabria
10/25/2021: EU gives 276 million euros to Greece for new Morias +++ In Brandenburg, neo-Nazis call for hounding of refugees +++ Greens call for distribution of protection seekers arriving in Poland
The ZDF magazine Royale reported on Friday evening about the conditions in the closed camp on Samos. It is surrounded by double rows of barbed wire fences and resembles a prison. The EU provides Greece with a total of 276 million euros for such camps.
You can find the article here (from minute 12). You can find out more about the camp at theneuemoria.eu
10/22/2021: Body of Syrian refugee discovered at border with Belarus +++ EKD welcomes "change of lane" and calls for more active naturalization culture +++ Sea Watch 3 assigned safe haven
The Sea Watch 3 has a safe harbor. After days of waiting, the Italian authorities have assigned Pozzallo as the port to disembark the rescued. A woman who was already evacuated the day before yesterday was able to give birth to a healthy daughter in Trapani.
21/10/2021: Socialists call for infringement proceedings over pushbacks +++ Council of Europe also calls for end to pushbacks +++ Asylum seeker sues Frontex
Omar B. and his family were deported to Turkey by the EU border guard in 2016, although he had applied for asylum in Greece. Now he is suing the EU border protection agency Frontex for damages at the ECJ. His lawsuit should not remain an isolated case.
For more than two months 31 refugees have been held at the border between Poland and Belarus and are not allowed to enter either country. In order not to freeze to death they tried to cross the barbed wire yesterday and were then forced back with pepper spray. You can find a video of it on Twitter at Ansgar Gilster.
20/10/2021: Polish Prime Minister in the European Parliament +++ Seehofer wants to support Polish police despite human rights violations +++ Two dead refugees discovered in Austria
Yesterday the Polish Prime Minister spoke in the European Parliament and delivered a propaganda show to justify the undermining of the rule of law. He also talked about refugees and the situation on the border with Belarus in order to divert attention from his own authoritarian restructuring of the state. I spoke with Deutschlandfunk about the speech and the situation in Poland.
The Border Violence Monitoring Network has released its pushback report for September. A solidifying trend in the documentation of pushbacks is sexual violence by Croatian officials at the border with Bosnia and Herzegovina. In addition, a boy from Afghanistan died on September 16 while trying to cross from Serbia into Croatia. You can read the 16-page report here.
19.10.2021: Protests against pushbacks in Poland +++ Protection seekers continue to freeze and starve at the border with Belarus +++ Thousands hold out in Tripoli outside UNHCR building
18.10.2021: Sea-Watch 3 rescues 120 people +++ First reception centres in Brandenburg full to capacity +++ EU wants to give Libyan militia ships for refugee defence
15.10.2021: EU supports Libyan coast guard +++ Poland erects "barrier" to Belarus +++ French government calls for migration deal with UK
10/14/2021: Repatriation of people rescued at sea to Libya is a crime +++ German Foreign Office uses extortionate methods against family reunification +++ 10,000 more displaced in Yemen
13.10.2021: Thousands of protection seekers are taken to Libyan torture prisons +++ At least 15 people drown off Libyan coast +++ Protection seekers reach Brandenburg
10/12/2021: Right turn in Turkish refugee policy +++ Croatian government admits mistreatment of protection seekers +++ 348 people rescued in the English Channel
11.10.2021: UN report paints shocking picture of situation in Libya +++ 12 ministers from member states demand money for border fences +++ HRW report on criminalisation in Greece
08.10.2021: Monitoring mechanism will not prevent pushbacks in Croatia +++ EU Commissioner Johansson announces investigation into pushbacks +++ Report traces how sea rescue is criminalised
7.10.2021: New videos of brutal pushbacks by Croatian border police +++ Greek and Croatian special forces are used for pushbacks +++ Poland carries out pushbacks quite openly
6.10.2021: There was no pull effect from Merkel in 2015 +++ U.S. announces record low in refugee admissions +++ Smuggling gangs on the English Channel growing more powerful
5.10.2021: Interview on the situation at the Polish-Belarusian border +++ Crimes against humanity in Libya +++ Camps on Greek islands emptying out
4.10.2021: People drowning on Atlantic route +++ German government calls for humanitarian aid for refugees at Polish EU external border +++ Refugees from war zones arrive at German border with Poland
1.10.2021: Domenico Lucano sentenced to 13 years imprisonment +++ Poland extends state of emergency +++ BGH rules that adults may not be adopted to prevent deportation +++