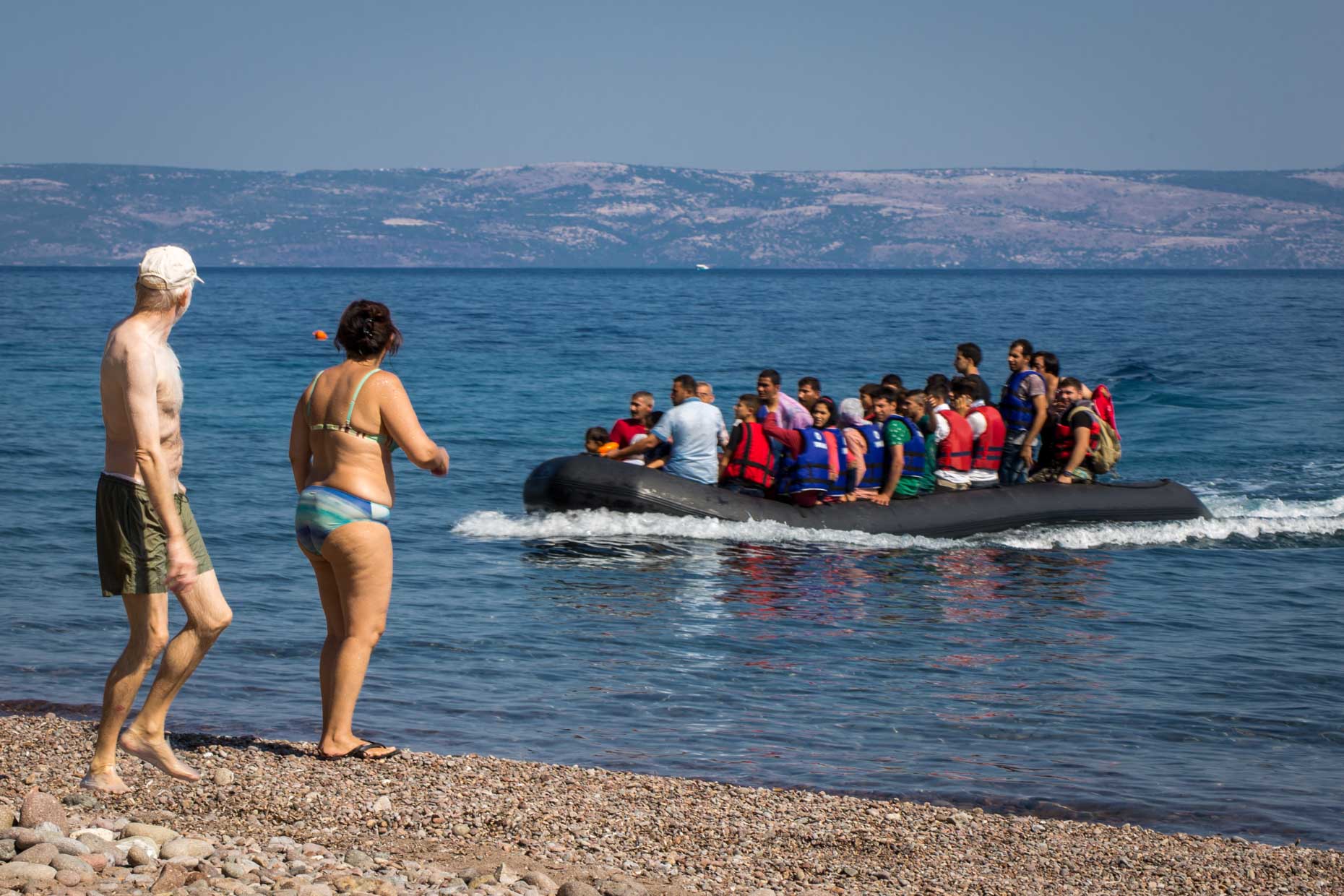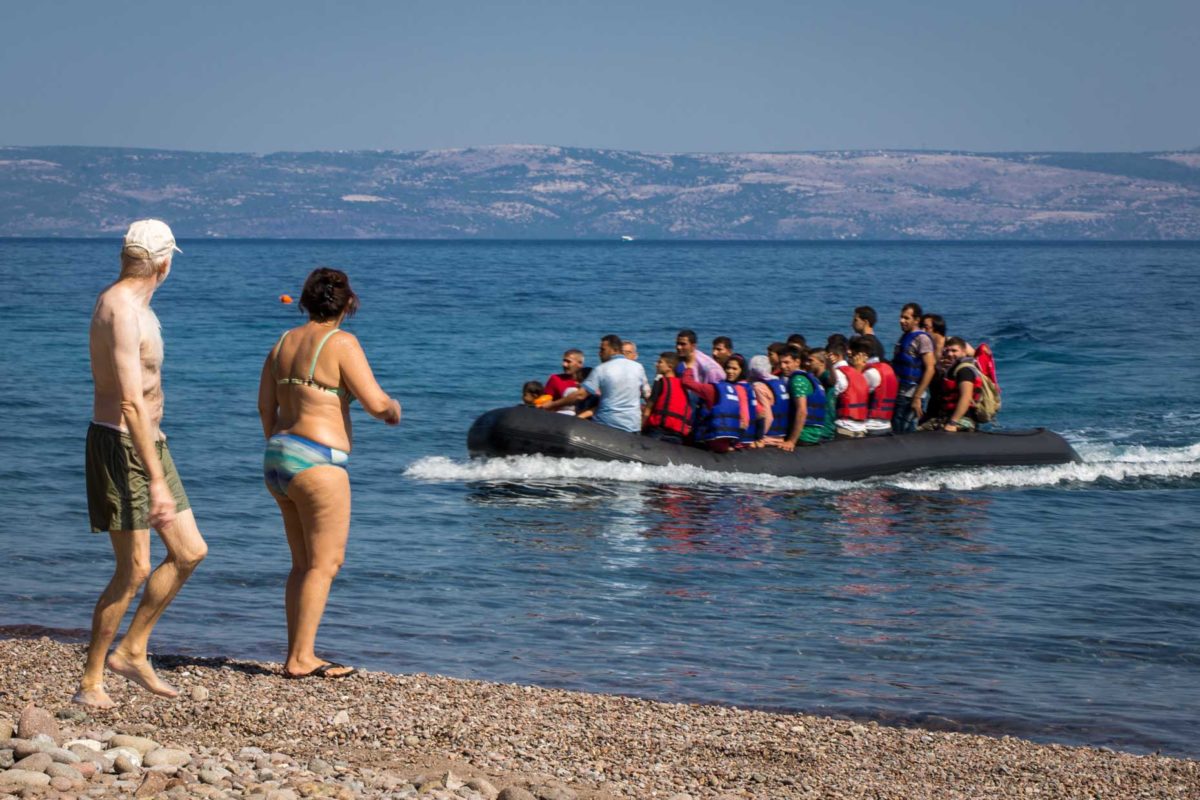 Here I would like to inform you regularly about the most important developments and decisions in European asylum and migration policy and keep you up to date about what is currently happening at the European external borders.

The Border News now delivered daily direct to your mobile phone: Here's the link to the Telegram-Channel.
09/24/2021: Another death at the border with Belarus +++ Frankfurt am Main becomes a safe haven +++ Turkish refugee policy becomes more restrictive 
Frankfurt am Main becomes a safe haven. The city councillors voted on Thursday evening by a majority for the motion of the coalition of the Greens, SPD, FDP and Volt to join the alliance of cities and take in refugees beyond the number provided for under the Königstein Key.
23.09.2021: "Cologne Declaration" criticizes EU refugees +++ 30 documented cases of pushbacks on Balkan route in August +++ Mounted U.S. Border Patrol agents chase refugees from Haiti 
More than 80 celebrities from art, science and politics practice in the "Cologne Declaration" harsh criticism of the European Union for its treatment of refugees. The letter was initiated by IIPM, LeaveNoOneBehind, Sea-Watch, Seebrücke, ECCHR, Equal Rights Beyond Borders, medico international, School of Political Hope and NTGent. 
The Border Violence Monitoring Network has published its report for August. It documents 30 pushbacks on the Balkan route alone, affecting 324 people. It also deals with violence against refugees from Afghanistan and the use of sexual violence by the Croatian side. You can download the 21-page report here read.
Asylum seekers in Samos move into the new mass camp. The EU Commission and the Greek government celebrate the camp as a new era of "migration management". But the people would rather not stay in Samos at all – they finally want a normal life. Deutsche Welle accompanied them and made this short film.
22.09.2021: Dead Iraqi woman presumably dragged from Poland to Belarus +++ Conditions in Bosnia-Herzegovina still inhumane +++ The taz presents my book
In the past few days. four refugees died at the external border between Poland and Belarus. Now there are more and more eyewitness reports according to which an Iraqi woman was already in Poland and her body was later dragged back to Belarus. At present, it is almost impossible to verify the events independently, because journalists currently have no access and freedom of the press is severely restricted. 
Sep 21, 2021: People die at Polish external border, but Merkel does not criticize Poland +++ Polish president speaks of refugees as "organizing storm attack" +++ Millions of people in Germany may not vote on Sunday
Millions of people who have lived in Germany for a long time won't be allowed to vote next Sunday. In the taz, some of them write what that means for them.
20.09.2021: Four people died at border with Belarus +++ Fire broke out on Samos +++ New mass camp set up on Samos, resembling a prison
On Samos, the new hotspot camp has now been built, which resembles a prison in many places. The camp is fenced in with barbed wire and equipped with surveillance cameras, X-ray scanners and magnetic doors. It also has a detention center and is accessible only by electronic chip. The gates remain closed overnight. It is one of five such camps planned on the Aegean islands of Leros, Lesbos, Kos, Chios and Samos. The EU has earmarked 276 million euros for the project. medico international reports on the conditions.
17.09.2021: Greece seals itself off even more +++ New mass camp on Samos +++ Mosaic of 48,000 should make clear: Human rights are #none negotiable
Greece is building a fence on the Turkish border to keep out refugees. The fact that more people fleeing the Taliban could now be arriving doesn't seem to interest the authorities there. DW reports.
Seebrücke, Sea-Watch and #LeaveNoOneBehind demand a future federal government for which the following applies: Human rights are #nonnegotiable. For this they have created a mosaic of 48,000 individual images in front of the Bundestag. You can see the impressive picture here.
In Bottropp, people are fighting for the city to join Seebrücke's "Safe Harbours" initiative. The Waz reports.
An Iranian asylum seeker is to present his passport at the Starnberg Aliens Office – and gets deported by return mail. This is not an isolated case for the Helferkreis.
Sep 16, 2021: Von der Leyen calls refugees 'hybrid attack' +++ Spanish coast guard rescued 225 people yesterday +++ Mexico stops people heading to U.S.
Ursula von der Leyen (CDU) described refugees currently arriving in Poland and Lithuania as a "hybrid attack to destabilise Europe". That's what she said in her State of the Union address yesterday, and that choice of words is absolutely wrong. It is true that Lukashenko is exploiting people to put pressure on the EU. But these people are not weapons and ammunition and that is why we should not speak of a "hybrid attack." The RND has the main points of the speech summarized here. You can listen to the whole speech watch here.
15.09.2021: Salvini in court +++ British Home Secretary threatens pushbacks +++ Refugee children in Greece denied basic right to education
This year, 14,400 people have already crossed the English Channel into England. Now British Home Secretary Priti Patel is threatening pushbacks. The Standard reports.
The Malteser Migration Report 2021 "Facts instead of Mood-Mongering" sheds light on the migration situation in Germany and offers many insights into the reality of life for people who have not been in Germany for very long. The researchers also come to the conclusion that integration has made great progress in recent years. You can read the entire report read here. T-Online summarizes the results here together
14.09.2021: According to the World Bank, 200 million people could lose their homes by 2050 because of climate change +++ EU Commission blocks funds to Greece +++ In Greek camps, the situation for people with disabilities is particularly hard
Climate change could drive more than 200 million people from their homes over the next three decades, according to a World Bank report. But with immediate and coordinated steps to reduce emissions and support green and sustainable development policies, climate migration could be significantly reduced, it said. Tagesschau.de summarizes the report and discusses the various scenarios.
09/13/2021: 126 people rescued from the English Channel +++ 32 Afghan refugees continue to be detained at Poland's external border +++ Sea Eye rates political parties on their attitude to sea rescue
10.09.2021: British government threatens pushbacks in the English Channel +++ 30 Afghans have been stuck at Poland's external border for weeks +++ 120 people are rescued off Lampedusa
The British government wants to rely on pushbacks in the English Channel in the future and admits this quite openly, even though they violate current law. People trying to get from France to England will simply be turned back, which can put people's lives in danger at sea.
Sep 09, 2021: Interior Ministry delays evacuation and procedures of people from Afghanistan +++ Pakistan deports hundreds of Afghans +++ At least 509 people died fleeing to Canaries in August
For weeks there have been promises to evacuate people, but the processes at the Home Office are being dragged out. No one from the Foreign Office lists has yet been promised admission. Even people from German lists who have been evacuated are being forced to travel on to the US. The people in Afghanistan – also German citizens – are simply abandoned. Please watch and share my video.
The UN says it receives daily reports of violations of women's rights in AfghanistanAccording to the report, women are forbidden to go to work or leave their homes without a male escort. There were also complaints about attacks on girls' schools and centres that help women fleeing violence in the country. The Taliban had presented 33 members of the government on Tuesday, including not a single woman and no one from any other political group.
I spoke to Puls 24 about the inhumane conditions in the Moria camp and explained why the Austrian government cannot simply decide that it will no longer accept refugees. And why the Greek government cannot simply lock people up in mass camps. see here.
09/08/2021: German schoolchildren still stuck in Afghanistan +++ Heiko Maas must finally explain why evacuations were not carried out in time +++ One year after the fire in Moria, Greece and the EU Commission have failed to keep their promises
Last March, EU Commissioner Ylva Johansson visited Lesbos and promised the Greek government more than 155 million euros for the construction of two new camps on the islands of Lesbos and Chios. The Greek government then announced that the new camp on Lesbos would be completed by September, which has not happened. tagesschau.de reports.
Sep 07, 2021: German government warned early of rapid collapse in Kabul +++ People protest in Kabul against Taliban +++ Syrian refugees abused and disappeared after return
The German government always stresses that the rapid Taliban victory came as a surprise. However, it had already received a warning from the USA at the beginning of August to prepare for an emergency in Afghanistan. The Greens are calling for a parliamentary committee of inquiry into the events surrounding the withdrawal. Der Spiegel revealed (paywall)..
Even after the fall of Afghanistan to the Taliban, the Federal Government wants to insist that applicants for family reunification learn German in their home country. In August, there were 4,173 Afghans on the "appointment waiting lists" to apply for family reunification. The taz reported exclusively.
Syrian intelligence services have detained, tortured and disappeared refugees and Syrians who have returned home, according to Amnesty International. According to a report published by the human rights organization, Syrian intelligence agents committed serious human rights crimes against 66 returnees, including 13 children. Under these circumstances, it is completely unacceptable to discuss deportations to Syria. tagesschau.de summarizes the study. The complete study can be found on the homepage of Amnesty International.
Germany has failed in its evacuation from Afghanistan, writes lawyer and Green politician Tareq Alaows. He himself fled Syria in 2015, writes about his experiences and demands that the German government take responsibility for the people from Afghanistan. You can read his text at Zeit Online.
06.09.2021: Taliban say they conquer whole of Afghanistan +++ Spiegel interview with Kabul airlift +++ Sea Eye 4 brings 29 rescued to Sicily
In an interview with Spiegel Online, Theresa Breuer explained once again how we started the Kabul Airlift and how obstacles were put in our way to prevent us from rescuing as many people as possible. You can read the interview here.
The Sea Eye 4 today brought 29 rescued people to Porto Empedocle in Sicily – among them two heavily pregnant women and four babies. If you want to keep up with the rescue operations, then follow the Sea Eye on Twitter.
03.09.2021: Seehofer rejects Thuringia's state admission program for Afghans +++ Berlin wants to admit more local forces from Afghanistan +++ Poland imposes state of emergency on border and restricts press freedom
Green Party top candidate Bettina Jarasch is also calling for a reception programme for relatives of Afghan refugees in Berlin. At the same time, Jarasch criticizes the federal government for having recognized the situation in Afghanistan too late and for having made the acceptance of refugees difficult or even refused it for a long time. More on the positions of the different parties in Berlin you can find out at the RBB.
02.09.2021: Refugees from Afghanistan face closed land borders +++ Turkey seals itself off from fleeing Afghans with a wall +++ Sea Eye 4 rescues 29 people from distress at sea
After the end of the airlift from Afghanistan, many people dare to flee by land: at the Islam Kala crossing alone, on the border with Iran, thousands of people are crowding in. At the border with Pakistan, many people are standing in front of closed borders. Read more about which countries want to take in people seeking protection from Afghanistan and which don't, at Time Online.
The Sea-Eye 4 rescued 29 people from a wooden boat in the Mediterranean Sea. Among them were eight women, two of whom were pregnant, and four babies. If you want to stay up to date with the missions, then follow Sea Eye on Twitter.
01.09.2021: Kabul airlift is a great success with rescue of 209 people +++ EU Council and Commission do not want to make concrete commitments to take in people from Afghanistan +++ Afghanistan's neighbouring countries do not want to take in people seeking protection from Afghanistan
I did an interview with "Welt" about the Kabul Airlift, in which I explain that the action and the rescue of 209 people is a great success. You can find the interview on my Instagram.
08/31/2021: German diplomats tried to force Kabul airlift plane not to evacuate anyone +++ Pakistan's ambassador calls on other countries to take in refugees from Afghanistan +++ EU interior ministers discuss situation in Afghanistan today
Pakistan's ambassador to Germany, Faisal, has rejected the admission of further refugees from Afghanistan. "Pakistan is not taking in any more refugees from Afghanistan", he told the Tagesspiegel. However, his country was doing everything in its power to support the departure of Afghans to other countries. Pakistan has already taken in between three and four million Afghans. Now richer and bigger countries should take in refugees from there, Faisal said.
30.08.2021: Kabul Airlift Update +++ The German Foreign Office lies about the Kabul Airlift.de +++ More than 10,000 people were left behind in Afghanistan despite guarantees of admission from Germany
After the accusations against the Foreign Office by the Kabul airlift, the Foreign Office has responded. Instead of admitting this scandal, they apparently try to flee forward and get entangled in false allegations and contradictions. I have dissected this in detail in the video. You can watch the 56-minute video on my Instagram.
At Lampedusa, 539 refugees arrived in a landing on Saturday.n. They had previously been discovered helplessly floating in the Mediterranean Sea in an overcrowded fishing boat just 15 kilometres off the coast of Lampedusa by Italian patrol ships and rescued. A total of just under 800 people arrived on Lampedusa on Saturday.
27.08.2021: Many dead in Kabul airport attack +++ Evacuation flights end +++ Greece plans deportation law that violates international law
A new law on the "reform of the deportation and return procedure" is to be passed in Greece. According to the NGO Refugee Support Aegan, it ignores not only numerous Greek expert:ing bodies, but also international and EU law. You can read the message here (Greek).
"The real problems are on land"Federico Soda, head of mission of the International Organization for Migration (IOM), describes the situation around the Mediterranean Sea and explains what drives people into the arms of smugglers.
08/26/2021: Situation in Kabul remains dramatic +++ How the election campaign determined definitional issues for local forces +++ Greece disregards health of protection seekers
The situation at Kabul airport remains dramatic. In a few days, evacuation flights will be halted. More info from on the ground has tageschau.de.

Questions about political responsibility for the disaster are growing louder. In a Report of the Redaktionsnetzwerk Deutschland it becomes clear how the decisions of those politically responsible have an impact on the ground and what the consequences are for the people.
In several cases, the European Court of Human Rights has recognized the Greek authorities' ongoing disregard for the health and lives of protection seekers in the Mavrovouni camp. Read more at the Legal Centre Lesvos.

A boat accident off the Canary Islands has left 52 people drowning as they try to flee to Europe. Learn more at t-online.

Conservative and right-wing politicians link the current situation in Afghanistan with a discussion about internal security in Germany. Current research shows that this has nothing to do with each other. More on this at the TIME.
25.08.2021: German Armed Forces accused of failing to provide assistance +++ UN accuses Taliban of serious human rights violations +++ People entitled to family reunification are left behind in Afghanistan
There will not be enough time for the airlift to fly out all those in need of protection. The sponsorship network of Afghan local forces of the Bundeswehr accuses the Federal Government of failing to provide assistance. Angela Merkel was also responsible.
08/24/2021: Fundraising for charter flight to Kabul underway +++ 300,000 signatures for safe escape routes +++ Human Rights Watch calls for internationally coordinated reception of refugees
For a long time we have been working with organizations on this, now we can make it public: We have a charter flight to Kabul to support the evacuation! Now we need your Donate. More at #LeaveNoOneBehind on Twitter.
23.08.2021: EU disputes admission of protection seekers from Afghanistan +++ Civil society demands immediate admission +++ Greece continues to seal itself off
In an interview with the Deutschlandfunk Luxembourg's Foreign Minister Jean Asselborn has called for admission quotas within the EU, noting that while human rights are always used as rhetoric, they are never acted upon. Meanwhile, the Slovenian leaderswho is currently also EU Council President, for not helping people in Afghanistan.
Civil society has long been calling for a human rights-based refugee policy. Despite heavy rainfall in some places, thousands of people demonstrated in Germany over the weekend in favour of accepting people seeking protection from Afghanistan. More on this has been published by the Deutschlandfunk.
According to its own information Greece has completed a 40 km long border fence on its land border with Turkey. Heavily guarded and equipped with the latest surveillance technology, it is intended to ensure that fewer people have a chance to apply for asylum in the EU. Reuters knows more.
The debate over taking in people from Afghanistan clearly shows that, due to the blocking attitude of some member states, the EU has failed for years to develop a common plan for taking in people seeking protection. Politico has the here summarized.
20.08.2021: BND warned already in December 2020 +++ Taliban kill more people in search of journalists +++ Greece plans to suspend asylum law again
There is growing evidence that many agencies have long warned of the rapid collapse, but that was politically ignored. Among others, the Federal Intelligence Service warned the Federal Government already in December 2020. The report on this can be found in the Mercury.
Meanwhile, it turns out that the Taliban's press conference was, as expected, more play than reality. Journalists in Afghanistan are being hunted down and people are being killed. Reuters has more information.
While thousands of people fear for their lives in Afghanistan, the EU is discussing how best to avoid having to help them. The Mirror has researched what plans Greece, among others, has.

The situation in Afghanistan remains chaotic. Many people are trying to get to the airport in Kabul to get out of the country. The tagesschau reports that the Bundeswehr has been able to evacuate a total of 670 people so far.

Demonstrations will also take place in many cities over the next few days. More information is available at kabulluftbruecke.de

08/19/2021: Interior Minister Seehofer blocked local force evacuation for months +++ Foreign Office calculates local force numbers down +++ More and more cities register rallies
Two months ago, the German Conference of Interior Ministers had already called on the Federal Government to initiate the rapid admission of local forces from Afghanistan. But Interior Minister Seehofer in particular blocked the move. The Tagesspiegel has internal documents, documenting the failure of the federal government.
In recent years, employment relationships of local staff have apparently been deliberately converted into bogus self-employment in order to be able to evade responsibility more easily. According to Foreign Minister Maas, only 2,500 local staff are involved, but the reality is different. In this Spiegel conversation worth watching. an ex-military soldier reports from Min 14:20 on how long-time supporters are now being given the cold shoulder.
But even the few local employees who, according to the narrow definition of the Federal Government, may hope for protection, are constantly confronted with new hurdles: Employees of the Gesellschaft für Internationale Zusammenarbeit (GIZ) are told that only parts of their family are allowed to leave: Grandparents or adult sons would have to be left to the Taliban. "GIZ confronts local forces with a choice: leave sons behind - or stay" writes Der Spiegel.

Protests are also planned across the country today and on the weekend. More and more rallies are being registered to demand the rapid evacuation and reception of people seeking protection. A central demonstration will take place on Sunday at 1 pm in Berlin. You can find a current overview and much more collected at kabulluftbruecke.de.
"They should rather fight the Taliban properly" – Sentences like these are often used to distract from the failure of the NATO states. The sociologist Aladin El-Mafaalani has briefly summarized in a video why the rapid abandonment of the Afghan army is absolutely understandable and rational. This Instagram video is one that Joe Biden might want to take a look at.
18.08.2021: Bogus Taliban press conference +++ EU foreign ministers:inside want to negotiate with Taliban +++ Evacuation chaos continues
That the Taliban have now taken power is a sad reality. Meanwhile, this is also sinking into the consciousness. The Guardian describes in an articlewhat consequences this now has for women journalists, among others.
17:08.2021: Action Kabulluftbrücke started +++ Rallies planned in many cities +++ Evacuation via Kabul airport still chaotic
In order to increase the political pressure on those responsible, we have launched the Kabul Airlift campaign. At kabulluftbruecke.de you can write your congressmen, donate and inform yourself. Feel free to share this with your friends and family.
Today and in the next few days, demonstrations for the rescue and reception of Afghan protection seekers are planned in many places, and there were already initial gatherings yesterday. Larger demonstrations are planned for the weekend. At kabulluftbruecke.de there is now also an overview of actions of the Seebrücke, in which you can take part.
The situation at Kabul airport has stabilized in the last few hours, and the evacuation of embassy personnel has begun. Thousands had gathered there in recent days, fleeing the Taliban, and some desperate people had clung to planes taking off from the outside and crashed. The first German plane now flew out only seven people, more planes are to follow. Ongoing updates in the FR ticker.
Now it may be too late for most. In a disturbing ZDF interview on Heute Journal. Markus Grotian of the Afghan Local Forces Sponsorship Network confirms that there is little hope for the survival of many long-time supporters: "We have to dissolve our safehouses, the Taliban are going door to door. If any rescue comes, it will be too late."
06.08.2021: Sea-Watch 3 has a safe haven +++ Greens call on Heiko Maas to present a new situation report for Afghanistan +++ Greek camps evacuated due to forest fires
With the so-called Integration Act, the grand coalition wanted to facilitate the integration of refugees, but migration researchers criticise some points. Above all, the residence requirement has done more harm than good to integration into the labour market. The probability that refugees whose residence was determined by the state would find paid work was a good six percentage points lower than that of those who did not have a residence requirement. Read more about the review in the Tagesspiegel.
In the UK, refugees now even face a prison sentence of up to four years if they enter the UK irregularly. This threatens above all people who try to get from Calais to Great Britain. DW reports from Calais.
05.08.2021: Federal government sticks to deportations to Afghanistan +++ Greek ombudsperson declares deportation detention unlawful if deportation cannot take place promptly +++ Tolerance towards refugees decreases in Turkey
The Greek Ombudsperson ruled that it is not lawful to hold rejected asylum seekers in detention pending deportation if there is no prospect of timely deportation. Specifically, the case involves 19 people whose asylum decisions were rejected and who are to be deported to Turkey. However, Turkey has not accepted rejected asylum seekers since March 2020. Therefore, the Greek Ombudsperson is demanding the release of the 19 people who are being unlawfully detained. Read more at Equal Rights Beyond Borders, who filed the class action complaint.
04.08.2021: Deportation flight to Afghanistan stopped +++ Lithuania considers building 508-kilometer fence on border with Belarus +++ Amnesty calls for decriminalization of sea rescues
Yesterday's Deportation flight from Munich to Kabul cancelledafter some of the Afghans have already been taken to the airport. There is no official reason yet, but it could be related to the fact that the European Court of Human Rights yesterday stopped the imminent deportation of an Afghan from Austria.
The Ocean Viking and the Sea-Watch 3 have rescued around 800 people in the past few days and now need a safe haven. The people on the ships are suffering from the high waves and the oppressive heat. Many are seasick and dehydrated, some have suffered burns. Learn more on Sea Watch's social media channels.
03.08.2021: ECHR stops deportations to Afghanistan +++ Over 100 Frontex officers to be sent to Lithuania +++ People increasingly fleeing Tunisia to EU
Every day, several hundred people from Afghanistan reach Turkey. About half a million Afghans already live there, but the majority of people in Turkey are against accepting more refugees from Afghanistan.
02.08.2021: Ocean Viking and Sea Watch 3 rescue over 800 people in the Mediterranean +++ Although the Taliban are overrunning Afghanistan, Armin Laschet still wants to deport there +++ I talk to Sonntagsblick about the failure of European refugee policy
In several missions, the Ocean Viking and Sea-Watch 3 have saved more than 800 people from drowning. There are currently 555 people on board the Ocean Viking and 263 on the Sea Watch 3. There are still at least three more boats in distress that need immediate assistance. You can find updates on social media at SeaWatch and SOS Mediterranée.
According to the IOM, at least 1113 people have died crossing the Mediterranean this year. If we want to prevent the deaths of even more people, we finally need support for civilian sea rescue by the EU, coast guards of the member states that actually rescue refugees, and our own European sea rescue mission. The current figures on drownings in the Mediterranean Sea can be found at the Missing Migrants" page of the IOM.
In an interview with Sonntagsblick I talk about how the situation of refugees has deteriorated since 2015, why they are granted fewer and fewer rights, and why we in Europe simply accept it when people die, when that is exactly what we should not do.
The UN warns of famine in Ethiopia's Tigray region, where it is having trouble delivering humanitarian convoys to some 5.2 million affected people. Food supplies are also in short supply in refugee camps in Tigray, where people from neighbouring Eritrea live, he said. There is also a high risk of disease outbreaks, especially in overcrowded refugee camps without adequate sanitation.
29.07.2021: Number of civilian victims in Afghanistan reaches record level +++ Greece demands that Turkey take back rejected asylum seekers +++ Court rules: Asylum seekers without prospects of accommodation and work in Italy may not be returned.
Greece has the EU Commission urged to persuade Turkey to take back rejected protection seekers. There are now 1908 people on the Greek islands whose asylum applications have been rejected, Greek Migration Minister Notis Mitarakis said in a letter to the Brussels authority. According to the agreement Turkey would have to take these people back, but has not done so since the start of the corona pandemic.
Berlin will, for humanitarian reasons, in the next five years accommodate an additional 100 people per yearwho have fled to Lebanon. The admission takes place outside the usual asylum procedures, as the Berlin Senate Interior Administration announced.
28.07.2021: The Geneva Refugee Convention (GRC) turns 70. On this occasion, all news today have a reference to the world's most important document for the protection of refugees
– On its 70th birthday, the Geneva Convention on Refugees is dying. On this occasion I talked to the Frankfurter Rundschau about itthat the EU massively violates the CSF by mistreating, drowning or turning back refugees. Also on my homepage I have a short text to this.
Pianist Igor Levit and columnist Georg Diez have written an important article in the Tagesspiegelin which they call for an "aggressive humanism" and write that we must understand flight as an act of freedom and finally understand the 21st century as the century of the refugees.
– Professor Sandro Mezzadra talks in an interview with Diary on how the Geneva Refugee Convention is currently under attack by states such as Denmark and the UK, and how the policy of externalisation contradicts the spirit of the Refugee Convention. He also explains why he is involved in sea rescue and why for him there is no strict distinction between theory and practice.
– In a Interview with Radio Eins, lawyer and political scientist Maximillian Pichl explains, why refugees in many EU states can no longer claim their rights under the Refugee Convention. And why reasons such as climate change and socio-economic exploitation should also be recognised as reasons for flight. I also spoke with Maximilian Pichl in my podcast about his study on the "Moria Complex"..
Alexander Göbel commented in the Inforadio of the HRthat the inhuman reality at the external borders makes the commitment of the EU states to the CSF degenerate into pure hypocrisy.
27.07.2021: 57 people drown off Libyan coast +++ Libyan coast guard threatens to arrest crew of Sea Watch 3 +++ Germany deports again to Hungary
The Libyan Coast Guard threatens to arrest the crew of the SeaWatch3. They falsely claim the Libyan SAR zone as their territorial waters, even though they are international waters. Ships like the Sea-Watch 3 want to help people in distress and bring them to a safe place. But the EU-funded militias are there to prevent people from fleeing Libya in the first place.
Currently, with the SeaWatch3, the Ocean Viking and and the Astral two civilian rescue ships and one observation ship in the central Mediterranean. In addition, the Geo Barents of Médecins Sans Frontières is free again as of today and is being prepared for the next mission.
26.07.2021: Tajikistan agrees to take in 100,000 Afghan refugees +++ The German Foreign Office downplays the situation in Afghanistan in order to be able to continue deporting +++ France calls for Frontex to be deployed at the English Channel
Afghanistan's neighbouring country Tajikistan agreed to take in 100,000 refugees from Afghanistan. The US is also providing USD 100 million in aid for refugees from Afghanistan. Now that the Taliban have conquered a large part of the country, the German government should also finally stop deportations to the country.
07/23/2021: Online disinformation is link between far-right and right-wing parties +++ Infant dies in Lesbos camp +++ Greece criminalizes human rights monitoring
A study shows: Online disinformation targeting refugees and NGOs acts as a "crucial link" between right-wing extremists and established right-wing parties. In Germany, it is primarily the AfD that disseminates misinformation from right-wing extremists. The 30-page study can be found here. Euractiv has the results in a clear article summarized.
A three-month-old infant died two days ago in the Mavrovouni refugee camp on Lesvos. According to local news, the child was vomiting the night before he died, but was not taken to a doctor in time. If you want to learn more about the situation on the Greek islands, then follows the correspondent Franziska Grillmeier, reporting on the scene.
21.07.2021: Hunger strikers in Belgium in critical condition +++ 20 people drown in the Mediterranean and 500 are dragged back to Libya +++ With "Now" I talk about my book
Sweden, Finland and Norway have suspended deportations to Afghanistan. Germany, the UK, Denmark and Switzerland continue to deport there. The taz gives an overviewhow other countries are currently dealing with deportations to Afghanistan.
20/07/2021: My book on European refugee policy is published today +++ MEPs demand from the Commission to finally take action against Croatia's violent pushbacks +++ Sea-Eye sells Alan Kurdi
My book 'Europe is abolishing itself' is published today. In it I deal with the question of how the EU knowingly breaks its own law, betrays values and what consequences this has for us. I also write about the possibilities for change and how individuals can become active. You can read it at Rowohlt and buy the book as paperback and e-book.
Sea-Eye sells the rescue ship "Alan Kurdi". The Regensburg-based aid organization justifies the move by saying that the blockade of civilian rescue ships by the Italian authorities had placed a heavy financial burden on it. The ship will go to the Italian sea rescue organisation ResQ and will be operated under the new name of ResQ People into new assignments.
07/19/2021: At least 955 people drowned in the Mediterranean this year +++ Sweden suspends deportations to Afghanistan +++ Scientist calls for better access to trauma therapy for refugees
Currently, not a single civilian rescue ship is underway in the Mediterranean because many are prevented from doing their work for flimsy reasons. According to the IOM, at least 955 people have died in the Mediterranean on their way to Europe so far this year. Last year 404 people died in the same period. You can always find the latest figures from the IOM here.
Japan recognizes only one percent of all asylum applications. Those who have to leave the country again sometimes sit for years in deportation custody – under absolutely undignified conditions. Even the death of a woman in prison did not trigger a rethink. tagesschau.de reports on the appalling conditions in Japan.
16.07.2021 Study shows that reports on refugees are increasingly negative +++ Refugees are subjected to massive violence by the Libyan coast guard +++ Lithuanians discuss measures to seal themselves off from the outside world
A study by the University of Mainz shows that Germany's leading media are reporting less frequently and more negatively about refugees. The Süddeutsche Zeitung reported most positively. The most negative was Bild. The two public news broadcasts have almost reversed the tenor of their reporting, the study says: "While almost only positive reports about refugees were broadcast here in 2015, both are now among the media with the most negative portrayal." An You can find a summary of the results in the Süddeutsche Zeitung.
Refugees continue to be subjected to violence, exploitation, sexual violence, extortion and forced labour in Libya, according to a new report by Amnesty International. According to a new report by the human rights organization, for many refugees, violence and mistreatment begin from their first contact with the Libyan Coast Guard at sea. You can find the report on the homepage by Amnesty in English, Arabic, Spanish, French and Italian. RND summarizes the report's findings.
Following the EU sanctions against Belarus, hundreds of refugees are arriving in Lithuania via the EU's external border. Lukashenko is trying to blackmail the EU with this and Lithuania has declared a state of emergency, erected a fence and now wants to lock up incoming refugees in prison for six months. The measures are also being hotly debated in Lithuania. The European press review eurotopics has collected comments from Lithuanian media and translated so that people in other EU countries can get a picture of the debate.
07/15/2021 European Parliament presents inquiry report on Frontex +++ In a letter I ask Heiko Maas to reassess the security situation in Afghanistan +++ Three people drown off Malta
The Taliban conquer more and more areas, people flee, the Afghan government asked for a stop of deportations, but Germany continues to deport. Therefore I have written a letter to Heiko Maas and ask him to adjust the assessment of the current security situation in the situation report, irrespective of any domestic political motives and in accordance with new findings and developments.
14.07.2021 Lithuanian parliament wants to imprison fugitives +++ More people flee the Taliban +++ Germany maintains deportations to Afghanistan, Finland suspends them
13.07.2021 Hundreds of Sans Papiers in Belgium on hunger strike +++ Taliban conquer more and more provinces +++ CDU politician wants to continue deporting to Afghanistan despite the situation
The Taliban conquer more and more provinces in Afghanistan and the government already asked for a halt to deportations to the country yesterday. The Interior Ministry is considering a temporary halt to deportations and the Foreign Office is working on a new situation report. In view of this situation, it is completely unacceptable that just last Wednesday 27 people were again deported from Germany to Kabul.
The EU is working with the Libyan coast guard to prevent people from arriving in Europe. This regularly results in serious human rights violations and the refugees are returned to a country of civil war. The Berliner Zeitung talked about this with Sea Watch.
Jul 12, 2021 Afghan government asks for suspensions of deportations +++ Federal Constitutional Court declares one judge biased in asylum dispute +++ Frontex expands presence at Lithuanian border
Frontex to send 30 additional forces and technology to Lithuaniato prevent people from entering the EU from Belarus. The autocrat Lukashenko is currently trying to put pressure on the EU by allowing refugees from Syria, Iraq and Afghanistan to pass through. Lithuania itself is planning to expand its border with Belarus at a cost of €42 million. Germany and Poland will each send a helicopter to Lithuania in the coming days.
07/09/2021 Ocean Viking has a safe haven +++ Lithuania erects new fences on border with Belarus +++ CDU and SPD advocate mass camps at external borders
07/08/2021 At least 2087 people died fleeing to Spain this year +++ Person deported to Afghanistan presumed dead by grenade +++ Romania becomes key country on Balkan route
At least 2087 people have died on the routes to Spain so far this year, according to the NGO Frontline Defenders. On the route to the Canary Islands alone, at least 1922 people have died in 57 boat accidents. The 12-page report in Spanish can be found at here. In the L'essentiel the report will be in German summarized.

From the Ocean Viking, a man jumped into the water. He was rescued from distress at sea a week ago and stated he could no longer stand the uncertainty and situation on the ship. The Ocean Viking rescued over 570 people and now urgently needs a safe haven.
07.07.2021: British government closes itself off to protection seekers +++ Greek prime minister thinks pushbacks are right even though they violate existing law +++ 92 dead in 11 days off Tunisian coast
The British government wants to turn away people on the high seas in future and send those seeking protection to reception centres in third countries, while their applications are being processed. In addition, people who enter the UK irregularly are to be punished with up to four years in prison.

Greek Prime Minister Kyriakos Mitsotakis has described and legitimised pushbacks as a common practice of Greek border protection in an interview. He thinks it's right to stop people on the water so that they can't apply for asylum in Greece. For him, the decisive factor is not whether someone legitimately wants to apply for international protection in the EU, but from where the boat sets off. The individual examination, which must take place according to the Convention on Human Rights, is thus consistently ignored. You find the interview (in Greek) here, meanwhile there are many good translation tools available online.
06.07.2021: Heiko Maas (SPD) maintains deportations to Afghanistan +++ Deportation flight to Afghanistan today +++ Lithuanian government declares state of emergency
Federal Foreign Minister Heiko Maas (SPD) considers deportations to Afghanistan still considered acceptable, despite the ever worsening security situation. Since the withdrawal of international troops began in early May, the Taliban have conquered many districts. The Taliban are currently outside Mazar-e Sharif, which also poses an acute threat to the remaining local Afghan forces following the withdrawal of the Bundeswehr.
The Lithuanian Government has on declared a state of emergency last FridayThis is because more and more people are entering Belarus irregularly. These are mainly refugees from Syria, Afghanistan and Iraq, while Belarusian opposition members are currently often not allowed to leave the country. Dictator Lukashenko is apparently trying to blackmail the EU by opening the borders to refugees.
07/05/2021: Ocean Viking rescues 572 people +++ 43 people drown off Tunisia +++ Franziska Giffey (SPD) calls for deportations to Syria
Tonight saved the Ocean Viking another 369 people from a wooden boat, which threatened to capsize throughout the rescue. Those rescued were brought safely on board during the operation, which lasted more than five hours, where there are now 572 people. Previously, the Ocean Viking had already rescued 203 people from distress at sea in four rescue operations in just a few days.
43 people drowned in boat accident off coast of TunisiaAccording to information, 84 people were pulled out of the water by rescue workers and survived. Only on Friday, the Geo Barents of Doctors Without Borders was also prevented from leaving, and the Sea-Watch 4 and the Sea-Eye 4 are currently not allowed to leave to rescue drowning victims.
Franziska Giffey (SPD) calls for deportations to Syriawhere people are threatened with torture and death. Giffey does not say how this is supposed to work, because then she would have to admit that a deal with the mass murderer Bashar al-Assad would be needed.
250,000 euros are required for a Sea-Eye fundraiser was collected on the occasion of the birthday of Federal Minister of the Interior Horst Seehofer. For some reason, however, he did not want to accept the donation certificate in person.
Three years after the deportation of 69 Afghans on Seehofer's 69th birthday, NDR and Deutschlandfunk spoke with the people who were deported at that time. NDR meets the people in Kabul, in undignified camps on the Greek islands and in the Bavarian province. In fact, some were able to return as skilled workers. You can listen to the four-part radio feature here.
07/02/2021: Ocean Viking rescues over 40 people +++ Collective deportation to Afghanistan likely planned next Tuesday +++ Sea-Eye raises money for a birthday present to Horst Seehofer
The Ocean Viking rescues more than 40 people from distress at sea. A Libyan coast guard patrol boat disrupted the first of the two rescue operations. Among the rescued are 15 minors and five women, one of whom is pregnant, according to SOS Méditerranée. The rescue organization reported on the operation on Twitter.
07/01/2021: Libyan coast guard fires on refugee boat +++ Greece cuts money to refugees +++ France rescues 46 people from distress in the English Channel
30.06.2021: Significantly fewer asylum applications in the EU +++ At least seven dead off Lampedusa +++ Immigration to Germany declines
In a boat accident off Lampedusa... at least seven fugitives were killed this morning, including a heavily pregnant woman. The boat capsized five nautical miles from the island, according to Italian radio. Rescue workers reportedly recovered the bodies of the people and brought 48 survivors ashore. Nine other people are believed to be missing.
06/29/2021: In my podcast Shikiba Babori explains the current situation in Afghanistan +++ Local forces of the German Armed Forces demonstrate in Afghanistan +++ Refugee children in Greece often cannot attend school
In my podcast, I talk with journalist Shikiba Babori about the current situation in Afghanistan, the troop withdrawal and the future of the people in the Hindu Kush. In particular, we focus on the rights of women and minorities. And we also explain why freedom of the press is better in Afghanistan than in many neighbouring countries. You can listen to the episode here. And you can also subscribe to the podcast at Spotify, Itunes or Soundcloud
06/28/2021: 33 European cities form safe havens alliance +++ Bamf forces refugees to stay in their home countries +++ 40 dead in boat crash between Western Sahara and Canary Islands
For the right to asylum, 33 European cities stood up in Palermo. Together they signed a declaration, founding the "International Alliance of Safe Haven Cities". In the paper, the cities call for the right to asylum to be respected in every European state, for reception quotas for the voluntary reception of refugees in municipalities, and for direct funding of reception in cities by the European Union to municipalities.
Germany denies protection status to homosexual refugees on inhumane and illegal grounds. Some are advised to deny themselves in their home country, although such justifications are not justifiable according to the European Court of Justice. Some have even been forcibly outed by the German authorities, making a return to their home country impossible. Der Spiegel spoke with Michael from Nigeria, who was forcibly outed by the BAMF.
25.05.2021: 5.7 billion euros for Turkey, Jordan, Syria and Lebanon +++ More cooperation with third countries to counter migration +++ Conference for solidarity-based refugee policy in Europe
06/24/2021: Croatian police illegally deport babies, pregnant women and children with disabilities +++ Consequences must follow after latest Frontex investigation group meeting +++ UNHCR report says 1.47 million people would need to be resettled next year
06/23/2021: Doctors Without Borders withdraws from Libyan camps +++ HRW says Frontex is doing too little to address basic human rights abuses +++ Amnesty documents pushbacks and torture by Greek authorities
In a report published today, Amnesty International documents 21 illegal pushbacks from Greece to Turkey. Torture was also used. Amnesty calls on the Greek government to end the illegal pushbacks immediately. You can find the 46-page report here.
Greece wants to use noise cannons to keep refugees away from Europe at its border with Turkey. Deutschlandfunk Kultur comments: "The noise cannon is a degrading, indeed: dehumanising weapon. As such, however, it would fit in only too well with the contempt for humanity at the EU's external borders."
06/22/2021 Germany to take in more local Afghan workers after all +++ 13,000 people repatriated to Libya this year +++ 11,000 relatives of refugees waiting for family reunion visas
06/21/2021: Family deported from Pirna even though five of their seven children were born in Germany +++ Heiko Maas doesn't want EU sea rescue mission +++ EU uses questionable technological methods for border controls
Imerlishvili family deported to Georgiaalthough five of the seven children were born in Germany and the two oldest were still toddlers when the family came to Germany in 2013. They were deported to a country that was completely unknown to them, whose language they do not speak and in which they know no one. SPD and Greens in Saxony speak of an "inhumane deportation practice". The neighbors demand in this petitionto bring the family back to Pirna. This touching videoin which the eldest daughter speaks, was written one day after the deportation.
In an interview with "Welt" Foreign Minister Heiko Maas (SPD) speaks out against an EU sea rescue mission and instead wants to give Turkey more money to stop refugees from coming to the EU. He describes relations with Turkey as "constructive" despite the massive human rights violations in the country.
The Standard reports that surveillance at the borders is to be given greater technological support. Controversial methods are also being tested as part of non-transparent research projects. Border controls are currently seen as a means of reducing the number of asylum applications and trying out questionable methods such as lie detectors or sound cannons. You can find the post with a comment from me here.
In his commentary on World Refugee Day Heribert Prantl writes: "Every day the EU kills migrants – through failure to provide assistance. And those who come to Germany are finished off – in so-called anchor centers. This is pathetic."
06/18/2021: 82.4 million refugees worldwide +++ Trial and verdict in Moria 6 case face criticism +++ Criminal conviction against Reisch overturned
In 2020, almost 82.4 million people worldwide were on the run – more than ever before. This is according to the new report of the UNHCR. Reasons for this are wars, climate change and pandemic.
The entire 71-page report you can read here.
A summary you can find at the mirror.
On the occasion of the conference of interior ministers, Pro Asyl, the state refugee councils and Youth without Borders demand a nationwide moratorium on deportations to Afghanistan and Syria.
Here you can find the press release of Pro Asyl.
06/17/2021: Crew of the Nadir negotiates to bring rescued to Italy instead of Libya +++ CDU politician wants to have people deported to Syria +++ Syrians:inside flee from Denmark to Germany
The German observation ship Nadir has found a distress at sea in the Maltese sea rescue zone. Instead of sending a rescue ship, Malta had only alerted the Libyan coast guard, which wanted to bring people to the internment camps. The crew refused. With political pressure and negotiations, in which I also played a part, it was finally possible to achieve that the Italian coast guard rescued the people and brought them to Italy. Find out more on RESQSHIP's Twitter channel.
Syrian refugees are leaving Denmark for fear of being deported to their old homeland. The Jumaa family is now seeking asylum in Schleswig-Holstein. Time visited them.
06/16/2021: Overcrowded camps on Lampedusa +++ Spain calls for frontline deployment at border +++ Asylum seekers sue European Commission
In the ongoing diplomatic dispute with Morocco... Spain wants to ask the EU for the presence of the European Frontex border protection agency in the North African exclaves of Ceuta and Melilla. Spain accused Morocco of "blackmail". Rabat wants to increase migration pressure on Spain by suspending border controls so that Madrid will revise its position in the Western Sahara conflict.
transcript Verlag published the anthology "Kämpfe um Migrationspolitik seit 2015" (Struggles over Migration Policy since 2015), which examines the developments in European refugee policy in recent years from a critical perspective. Which forces have prevailed and what shifts have occurred discursively and politically? And what does this mean for emancipatory and pro-migrant perspectives? You can read the anthology free of charge as a PDF here.
06/15/2021: Bishops call for deportation stop +++ Up to 200 people capsized off Yemeni coast +++ Former Frontex vice criticizes developments at EU agency
06/14/2021: Geo Barents needs safe haven for 410 rescued +++ 1200 protection seekers land on Lampedusa, 1000 returned to Libya +++ Pope calls Mediterranean Europe's biggest graveyard
Pope Francis has called the Mediterranean "the largest cemetery in Europe." The occasion was the inauguration of a memorial in the Sicilian city of Syracuse, off whose coast many people drowned in 2015 when a boat carrying migrants sank. This year, according to the IOM, at least 811 people died in the Mediterranean crossing to Europe, 675 of them on the central Mediterranean route.
06/11/2021: Geo Barents rescues 26 people +++ 450 people dragged back by Libyan coast guard +++ European Court of Justice rules Germany must base subsidiary protection on individual cases, not death statistics in region of origin
06/10/2021: Greece to stop letting people from Syria and Afghanistan apply for asylum +++ Greek government defends sonic cannon deployment +++ Deportation flight carrying 42 people lands in Kabul
The plane with the deported Afghans has landed in Kabul. Although Afghanistan is considered to be the most unsafe country in the world, the coronavirus is rampant and the Taliban are currently conquering more and more areas, the Federal Government is sticking to deportations to Afghanistan.
For many refugees, the island of Samos is a place without a future. Many live here in inhumane conditions. While the EU builds new camps, it is often volunteers who try to alleviate the plight of the people. BR describes the situation on the ground.
09.06.2021. In an interview with Deutschlandfunk Kultur I talked about the illegal strategy to seal off Europe. +++ EU interior ministers:inside no closer to a common refugee policy +++ Seehofer wants to prevent secondary migration to Germany
With Weltzeit on Deutschlandfunk Kultur I spoke about European refugee policy and how the impression is being created that the EU is waging war against people trying to reach Europe on rubber dinghies.
At yesterday's meeting of the EU interior ministers once again no progress has been made towards a common European asylum system. The only thing the EU states can really agree on at present is more isolation and more cooperation with third countries so that fewer people arrive in the EU at all.
08.06.2021: Today deportation to Afghanistan +++ European Court of Auditors criticises Frontex +++ Associations and NGOs demand from EU interior minister:inside end of mass camps at external borders and more reception from Greece
The Taliban are conquering more and more territory in Afghanistan and the security situation is worsening. Tens of thousands of local people who worked for the NATO forces want to flee because they are afraid of the Taliban's revenge. Despite this situation, a deportation flight is scheduled to leave Leipzig/Halle airport for Afghanistan this evening. The Deutsche Welle briefly discusses the situation of the local forces. Today at 7 p.m. a rally against deportations to Afghanistan will take place at the airport.
07.06.2021: Comprehensive study on deported Afghans published +++ Tomorrow evening the next deportation flight leaves for Afghanistan +++ Sea-Eye 4 detained in Palermo
The majority of Afghans deported from Germany apparently leave Afghanistan again shortly afterwards. In a recent study, only one out of 113 deportees stated that they wanted to stay in Afghanistan. Moreover, deportees have often never been to Afghanistan or were last in Afghanistan as children and are deported to a country they hardly know. A summary of the study you will find at tagesschau.de. The entire study by Friederike Stahlmann can be found here.
Although Médecins Sans Frontières' Geo Barents has been in the Libyan SAR zone for a week, it has not yet been deployed and departures from Libya are the lowest in months. Migration researcher Matteo Villa points out that such facts show that the civilian rescue ships in the Mediterranean are precisely not a pull factor that drives people to dare the dangerous crossing of the Mediterranean. Matteo Villa's comment on Twitter.
04.06.2021: SRF reports on human rights violations by Frontex +++ Danish government wants to get rid of protection seekers +++ Turkey and Western Balkans receive billions, also to keep refugees out of EU
03.06.2021: International Commission of Jurists rejects EU Pact on Migration and Asylum in its current form +++ Ministry of the Interior does not want to help Bundeswehr personnel from Afghanistan +++ Religious woman found guilty for church asylum
06/02/2021: 23 people drown in the Mediterranean +++ Greek government to use sound cannons against refugees +++ Dutch journalist detained in Greece for reporting pushbacks
With a giant life jacket as floor graffiti the work of sea rescue and the life-threatening flight of thousands of people across the Mediterranean to Europe will be commemorated on Frankfurt's Unicampus. "We only make visible what everyone knows and suppresses," reads a statement by the artists. This year, at least 773 people died in the Mediterranean Sea on their way to Europe.
01.06.2021: NGOs sue Frontex +++ Saturday is day of action against deportations to Afghanistan +++ Greece cracks down on refugees with new technology and AI
Non-governmental organisations are suing the EU border agency Frontex. The case in question concerns a woman from Burundi and a 15-year-old Congolese boy. The accusation is that they both tried to seek asylum on the Greek island of Lesbos last year and were left to fend for themselves at sea, without water or food. I have spoken to MDR about my assessment of the accusations.
28.05.2021: Federal Foreign Office forcibly routes protection seekers in their countries of origin +++ Hundreds of minors stranded in Ceuta +++ Irish association raises money for Mediterranean rescue ship
Lawyers of the Federal Foreign Office have outed homosexual and bisexual asylum seekers in their countries of origin - even though they face long imprisonment or even the death penalty there. Die Welt spoke to one of those affected.
In the Greek refugee camp of Katsikas, there have been more than 170 cases of infection with Covid-19 in recent days. More than 1,000 people currently live in the camp. The protection against infection in the camps is absolutely insufficient. Doctor Apostolos Veizis reported on Twitter.
27.05.2021: Fewer naturalisations due to Brexit and Corona +++ German government admits mistakes in dealing with homosexual protection seekers +++ Expert:inside demand monitoring of refugees' human rights compliance in Greece
Last year, significantly fewer people were naturalised in Germany. This was mainly due to Brexit and the Corona pandemic, as reported by the Federal Statistical Office in Wiesbaden on Wednesday. In 2020, about 109,900 foreigners:inside received citizenship – 15 percent less than in 2019. Syrian nationals for the first time represented the second largest group among those naturalized.
05/26/2021: NGOs file lawsuit against Frontex +++ Assad gets re-elected +++ UN human rights office raises allegations against EU refugee policy
05/25/2021: Frontex chief tries to cover up pushback scandal and ignores his own human rights commissioner +++ CDU politician:inside calls for more mass camps at EU external borders +++ Hundreds of unaccompanied minor protection seekers are in Ceuta
For months, Frontex chief Fabrice Leggeri has been under pressure over his border guards' involvement in illegal pushbacks in the Aegean. Internal documents show: Frontex's own human rights officer spoke of "solid evidence" of pushbacks in the Aegean, but Frontex chief Leggeri may simply have passed it over.
In its refugee and migration policy, the EU is currently relying on outsourcing border controls to countries such as Morocco and Libya, says migration researcher Jochen Oltmer in Dlf. This is associated with risks, because one also works together with regimes that do not comply with EU standards.
20/05/21: EU Commission works on new deals with Libya and Tunisia +++ Over 180 people drowned despite Frontex planes circling nearby +++ Greek migration minister claims illegal pushbacks are legal
The EU Commission's plans include relieving Italy of the burden of incoming refugees and concluding new deals with Libya and Tunisia on refugee protection. Currently, the responsible Commissioner for Home Affairs, Ylva Johansson, is in Tunisia with the Italian Interior Minister Luciana Lamorgese.
Yesterday Johansson gave an interview to the Italian "Repubblica". Der Standard has summarized it in German here.
Greek migration minister Notis Mitarakis defends illegal pushbacks on high seas and spreads the false claim that they are legal. This is nonsense because the Geneva Refugee Convention, the European Convention on Human Rights as well as EU law oblige member states to guarantee people the right to an asylum procedure and to respect the principle of "non-refoulement" - even if they enter irregularly. Border authorities must therefore always carry out an individual assessment of the need for protection if the person entering wishes to apply for asylum.
20.05.2021: Case against Carola Rackete dropped +++ Sea-Eye 4 assigned a safe haven +++ Number of internally displaced persons increases worldwide
The Sea-Eye 4 has been assigned a safe port and is allowed to land in Pozzalo, Sicily. This is good news, but it is incomprehensible why hundreds of exhausted people were not allowed to go ashore in Malta, even though the ship was already off the coast there. Learn more on the Sea-Eye Twitter channel
19.05.2021: More Corona cases in the new Moria +++ Spain deploys tanks and soldiers in Ceuta +++ Expert commission on causes of flight presents report
Spain is deploying tanks and military on the border between Ceuta and Morocco and has now deported more than half of the 6,000 or so people who recently reached the Spanish exclave by swimming. This two-minute video discusses the background.
The In its final report, the Expert Commission on the Causes of Flight recommended that the government should take stronger action against global warming and put arms exports to the test so that fewer people have to flee their home countries. In the authors' view, Germany should also set up a coalition of states that takes in a certain number of refugees directly from their regions of origin each year. The 220-page report, but also a 12-page summary, can be found at at this link.
In a boating accident in the Mediterranean Sea. over 50 lives were lost. 33 other people were rescued by workers on an oil platform.
18.05.2021: Debate on sea rescue in the EU Parliament +++ Sea Eye 4 needs a safe haven +++ Thousands of people from Morocco arrive in Ceuta
17.05.2021: Sea-Eye 4 rescues 330 people +++ Residents:inside prevent deportation in Glasgow +++ New Moria completely unsuitable for people with disabilities
The Sea-Eye 4 rescued 99 people overnight, mostly from Syria, and now has 330 people seeking protection on board. Last night, however, around 680 people were also intercepted in the Mediterranean and returned to the civil war country of Libya. You can read more about the rescues at the Twitter account of the Sea-Eye. To pullbacks to Libya regularly tweets Safa Msehli, IOM Spokesperson.
The 26-year-old medical student Marianne Pretschner is committed to Sea-Eye. In the summer of 2019, she was deployed in the Mediterranean Sea and did what she also wants to do as a future doctor: save lives. The SZ spoke with her.
Khaled Al-Afat was transferred to the new Moria together with 400 refugees with disabilities. He cannot reach many areas with his wheelchair. For people like him, life in the inhumane camp is even more complicated than for many others. The ND visited him.
12.05.2021: Council of Europe criticizes Greek government +++ Broad alliance calls for easing family reunification for people with subsidiary protection status +++ Man on Lesbos faces life imprisonment after trying to save people
The Human Rights Commissioner of the Council of Europe has written a letter to the responsible Greek ministers in which she demands an end to the illegal pushbacks, to allow the NGOs to work and to finally improve the conditions in the camps. In their reply, the responsible ministers simply deny that illegal practices occur and claim, contrary to all the facts, that the conditions in the camps have substantially improved.
You can find the letter from the Human Rights Commissioner here.
Here is the ministers' response.
Although many survivors are currently landing on Lampedusa in Italy and the EU Commission has called on member states to help take in refugees, there have been no offers yet. Germany, France, Finland, Ireland, Latvia, Lithuania, Portugal, Romania, Slovenia and Spain had taken part in an earlier distribution and it is important that this time again a coalition of willing EU states goes ahead and takes in people from Italy.

Clubs, associations and city leaders have called on the federal government to facilitate family reunification for refugees with subsidiary protection status. One reason for the appeal initiated by Pro Asyl is that in 2020 only 443 visas were issued per month for relatives of beneficiaries of subsidiary protection, although the law provides for a quota of 1000 visas. It is also criticised that applicants sometimes wait longer than a year for an appointment at German missions abroad.

Mohamad H., 27, from Somalia is facing life in prison after he tried to save 33 people in a shipwreck off Lesbos. The prosecution accuses him of being the driver of the boat and thus of smuggling and putting people's lives in danger.
11/05/2021: Me and 48 other MEPs call for evacuation of refugees from new Moria due to lead exposure +++ Libyan militias torture and enslave refugees +++ Over 2000 people land on Lampedusa
Together with 48 other MEPs, I have written a letter to the European Commission in which we demand that all camp inmates be moved immediately to areas not contaminated with lead. The health and safety of these people is at great risk. They must not be kept in these conditions any longer. You can find the letter on my homepage.
10.05.2021: Sea-Watch 4 detained, Sea-Eye 4 launches into area of operations +++ Libyan coast guard deports over 700 people to civil war country +++ Germany must retrieve Syrian deported to Greece
This weekend, around 1400 refugees reached the island of Lampedusa. Meanwhile, according to media reports, the Sicilian judicial authorities again arrested the Sea-Watch 4. The pretext this time is that too many life jackets were found on board and that the ship's sewage system was not designed for such a high number of rescued persons.
Munich administrative court rules: Germany must bring back a Syrian deported to Greece. The human rights organisation Pro Asyl described the decision as a "slap in the face" for Federal Interior Minister Seehofer. The agreement with Greece to be able to send refugees back directly at the German-Austrian border was clearly illegal.
07.05.2021: Activist acquitted again +++ Italian mayor calls for European sea rescue programme +++ Journalist reports on smear campaigns against civilian sea rescuers:inside
05/06/2021: Activist against deportations in court +++ Pushbacks of minors in France +++ Drones for Frontex +++
"Migration is a human right for me." The activist Hagen Kopp wants to save people from deportations and is therefore standing in court again today. Der Spiegel interviewed him.
France sends dozens of unaccompanied underage refugees back to Italy every month. For many, the police change their age so that they are considered adults. Families with children are also sent back to Italy without being given the opportunity to apply for asylum. Human Rights Watch reports.
05/05/2021: 2,000 deaths from pushbacks since pandemic began +++ Illegal pushback documented +++ European Parliament backs civil society
Since the beginning of the pandemic, at least 2,000 people have died as a result of illegal pushbacks. Systematic pushbacks by Frontex play a major role. The Guardian reports.
The SPD is calling for a fundamental reform of Frontex under a new director. In doing so it is calling for the replacement of the director Fabrice Leggeri, who has been in office since 2015, and more parliamentary control of the agency. You can read about the background in Der Spiegel.
31 people were allegedly severely mistreated and even shot at by Greek authorities over five days in December 2020. The families were separated, taken to Turkish waters and shipped to life rafts. One of the fugitives survived only because he was revived by his friends in the life raft. Mare Liberum reconstructs the case.
04.05.2021: Deportation flight to Afghanistan cancelled because safety of accompanying police officers cannot be guaranteed +++ USA accepts more refugees again +++ German court strengthens rights of refugees
The Lower Saxony-Bremen Regional Social Court has strengthened the rights of refugees who have already been recognised by another EU country but were subjected to inhuman or degrading treatment there. It awarded unreduced asylum benefits to a woman who fled Nigeriabecause the woman had to prostitute herself or beg for a living in Italy.
03.05.2021: More than 600 refugees rescued from the Mediterranean in the last days +++ Kara Tepe on Lesbos closed, so even more people in the new Moria +++ Greece is a dead end for many refugees
Greece is also a dead end for many refugees outside the hotspots on the islands. In the reportage of WRDforyou you can learn more about the situation of the refugees.
04/30/2021: Sea Watch rescues 44 people +++ New closed camp in Greece +++ Mass surveillance of refugees planned
The Sea Watch 4 rescues 44 people from distress at sea, after less than 24 hours back in the area of operation. This shows once again that there are currently far too few rescue ships on the ground to save people from drowning.On the Twitter account of Sea Watch you will be informed about current missions.
The Ritsona Camp near Athens is being converted into a closed camp. Three-meter-high walls will enclose the camp, as Parwana Amiri shows on his website. Twitter.
In future semi-automatic surveillance systems are to monitor Greek camps in the Aegean. Residents will only be allowed to leave the increasingly militarised camps during certain hours of the day. Drones, metal detectors and X-ray machines are also to be used. Read more about the background at Algorithm Watch.
A Spanish rescue ship brought a wooden boat drifting in the Atlantic to Tenerife. On the boat were more dead than initially thought: 24 bodies, including two minors. German Wave reports.
Cottbus was the first city in Lusatia to be declared a safe haven for refugees. With this, it follows the call of the Seebrücke Lausitz.More you can learn at Lower Lusatia News.
To find out if your city has been declared a Safe Haven and to see which other European municipalities are showing solidarity in welcoming refugees, check out the map from Europe Welcomes.
04/29/2021: Frontex provides information for deadly interceptions to Libyan coast guard +++ Sea-Eye 4 reaches Mediterranean and receives support from Sea-Watch +++ Refugees are moved from humane camp to new Moria
The EU border protection agency Frontex is to be expanded into a European deportation police force in the future. Migration researcher Jochen Oltmer is critical of Frontex's new mandate. Deutschlandfunk interviewed him.
About 60 people were taken at dawn from the relatively good camp Kara Tepe and brought to the new Moria. There was no comprehensible reason at all to bring the people to a worse mass camp. This is simply to show that refugees at Europe's external borders have no right to a decent life. Mission Lifeline posted photos of the action on Twitter.
04/28/2021: Ocean Viking rescues 236 people +++ EU Commission backs "voluntary return" +++ EU Parliament denies Frontex discharge
Yesterday the Ocean Viking rescued 236 people from two overcrowded boats, including 114 unaccompanied minors. Several were weakened & dehydrated, women suffered minor fuel burns and inhaled fumes. At least 453 people have died in the Mediterranean since the beginning of the year. Click here to go to the SOS Méditerranée Twitter channel.
The EU Commission has presented a paper, which aims to persuade more people to return "voluntarily" or to deport more people. According to these plans, Frontex is to become a deportation agency and states that do not cooperate are to be blackmailed with restrictions on the issuing of visas. Unfortunately, the Commission is focusing its work on sealing off and deportations and not on ensuring that fundamental rights are respected at the external borders and that people are saved from drowning.
The EU Parliament has refused to grant discharge to Frontex and has postponed the decision because we want to wait for the results of the investigation into pushbacks before taking a decision. This is a good step so that human rights violations do not remain inconsequential. You can find my tweet about it here.
The European Commission has recently set up a group on sea rescue, the stated aim of which is to create cooperation at EU level to guarantee rapid intervention in the event of distress at sea. A month after the group was created, many people who could have been rescued have drowned. So far it's unclear what the group does at all and it's not even public who belongs to it. You can find an analysis of this at statewatch.
27.04.2021: Frontex relies on air surveillance instead of rescue +++ Debate about climate passport among the Greens +++ Acquittal for monk in trial about church asylum
Did you know that there is a film school in the Greek camps? The actress Katja Riemann visited it and made a documentary about the refugees at the school. You can find the film at Arte.
04/26/2021: Green European Group launches campaign for municipal reception of refugees +++ State government in Thuringia wants to continue taking refugees from Greek camps +++ German government offers Greece money to be able to deport there
On social media, people are demanding their right to be in solidarity under #WelcomingEurope. Over 600 solidarity-minded municipalities in 17 EU countries want to welcome refugees. The map with over 600 host communities you can find here[ Door Closes ] And... here you can watch the video of the campaign.

Thuringia received a total of 177 refugees from the Greek camps between August 2020 and March 2021. The state government in Thuringia also wanted to start its own state programme to take in more people from the Aegean islands, but was forbidden to do so by the Interior Ministry under Horst Seehofer. The Greens and the Left Party in Erfurt are pushing for a lawsuit, but the SPD doesn't want one. This legal opinion commissioned by me... states that the federal government should not simply refuse to accept some refugees by the federal states.
After several courts ruled that refugees can no longer be deported from Germany to Greece because they face lack of care and homelessness, the federal government is offering money to Greece. The aim is to change the conditions for refugees recognised in Greece so that they can be deported from Germany again.
Denmark wants to deport people to Syria and has already withdrawn the protection title of more than 250 Syrian refugees. This decision is based on a completely incorrect assessment of the security situation in the country. In the European Parliament, we adopted a resolution on 11 March which clearly states that Syria is not a safe country to return to. Pro Asyl explains the background.
22.04.2021: Last plane with refugees from Greece lands today +++ Denmark prepares deportations to Syria +++ Groko extends IRINI naval mission
21.04.2021: Call for a ban on deportations to Afghanistan +++ Expert:innen explain why deportations to Syria violate fundamental human rights +++ Court rules: No deportations from Germany to Greece
20.04.2021: Collective deportation from Frankfurt to Pakistan +++ "Ask the State" has to pay less court costs because of Frontex +++ Italian authorities wiretap journalists, damaging freedom of the press
19.04.2021: Seehofer tries to obstruct Frontex reconnaissance +++ Hotel owners in Gran Canaria take in refugees +++ Thousands of refugee children and young people missing
I was leaked an internal mail about the human rights violations at Frontex, which is very incriminating for Horst Seehofer and the Federal Ministry of the Interior. Obviously, the Federal Ministry of the Interior lied to the German Bundestag and tried to obstruct the clarification... You can read more about it in my thread on Twitter.
04/16/2021: Belgian woman has taken in a total of over 50 refugees in need +++ More people fleeing West Africa to Europe +++ Pro Asyl calls for halt to deportations to Afghanistan
04/15/2021: Almost nothing remains of the 2018 Bamf scandal +++ Brutal human trafficker in Libya set free +++ Study proves: Migration hardly a topic in German curricula
04/14/2021: Biden withdraws troops from Afghanistan +++ Bamf wrongly rejected 21,224 asylum applications +++ Denmark to deport to Syria
Denmark has classified the Syrian capital Damascus as safe – an assessment with which the country stands alone in Europe. So far, the residence permits of several hundred Syrians have been cancelled or no longer extended because of this. Deutsche Welle has spoken with those affected.
04/13/2021: Thousands of recognized refugees continue to flee from Greece to Germany +++ Spanish human rights activist deported from Morocco +++ A new Lesbos looms on the Canary Islands
The Spanish human rights activist Helena Maleno Garzón was deported in January from her Moroccan home in Tangier, where she has been living for twenty years and where she works for the human rights of refugees. In this video on Twitter, she explainshow Spanish and Moroccan authorities are trying to prevent their work.
04/12/2021: Alan Kurdi is free again +++ Hagen becomes safe haven +++ 132 boats turned back in Frontex operations
The rescue ship Alan Kurdi has been freed after six months. Meanwhile Italy's systematic attacks on sea rescue organisations continue. Meanwhile the Dresden-based association Mission Lifeline has christened "Rise Above", a new rescue ship for use in the Mediterranean. tagesschau.de reports on Italy's tough stance against sea rescue. You will also find the statement from Sea-Eye.
The city of Hagen officially declares itself a Safe Haven for refugees and joins the "Cities of Safe Havens" alliance. On the homepage of the Seebrücke you will findwhether your city is already a Safe Haven and how you can get your city to become a Safe Haven.
09.04.2021: Press freedom restricted in Greece +++ Croatian border guards use sexual violence against protection seekers +++ Further ambiguities in Frontex training
08.04.2021: Amnesty criticizes situation in Greek refugee camps +++ Malta breaks international law +++ Judicial hearing in Alan Kurdi case in Italy
07.04.2021: Another collective deportation to Afghanistan +++ Sicilian prosecutor's office intercepts journalists during investigations against private sea rescue +++ Pushbacks at the Croatian border again
On the Greek island of Samos, almost 3,200 people are living in the Vathy camp, which was only built for 648 people. Not only is the hygienic situation unacceptable, but the mental health of those seeking protection is also alarming. Here the NGO Europe Must Act describes the situation.
06.04.2021: Malta's sea rescue control centre obstructs sea rescue +++ Corona outbreak at Ritsona refugee camp in Greece +++ 400,000 people in Kenya face dissolution of their camps with no follow-up prospects
Malta's sea rescue coordination centre once again failed in its duty under international law. First of all, reported emergencies at sea were ignored, writes Zeit Online. Now she even claims that the people seeking protection were never in the rescue zone, reports the NGO Alarmphone. Fortunately, all 270 people have now landed on Lampedusa.
Corona has broken out in the overcrowded Ritsona camp in Greece. However, the simplest protective measures such as keeping a distance and regular hand disinfection simply cannot be observed due to the undignified conditions. One resident shares her story in this video.
Pushbacks are part of everyday life in the Greek Aegean Sea. The ZDF Morgenmagazin tried to draw a picture of the situation and accompanied the Turkish coast guard in action. You can find the short report here.
In recent days there have been further pushbacks off the Greek island of Lesbos. Frontex also seems to be involved again. The NGO Mare Liberum reports.
04/01/2021: EU naval mission "Irini" rescues no people from distress at sea +++ 166 GB of video footage proves pushbacks at Turkish-Greek maritime border +++ Germany should continue to take in refugees from Greek camps
The EU naval mission "Irini" in the Mediterranean Sea, which was decided a year ago, has so far not rescued a single person from distress at sea. The predecessor mission Sophia, on the other hand, rescued around 45,000 people from 2015. Under pressure from EU states like Italy and Malta, the ships simply bypass the migration routes so as not to have to rescue people. In Der Spiegel I give a classification of how the EU can support sea rescue.
I have 166 GB of footage with videos of Pushbacks by the Greek coast guard. The material comes from the Turkish authorities and we will have it analysed by independent experts. Frontex and the Greek government are facing a lot of unpleasant questions. You can see a snippet at my Twitter.
30.03.2021: State reception in Thuringia: Greens and Left want to sue federal government +++ More than 1000 people forced back to torture camps in Libya +++ Recognised refugees are driven into homelessness in Greece
03/29/2021: New camp on Lesbos won't be ready in time +++ UNHCR counts hundreds of pushbacks through Greece +++ New reports of pushbacks at Croatia's external border
Journalists are finding it increasingly difficult to report unhindered on the situation on the Greek islands. My questions about press freedom have also gone unanswered by the authorities. Tonight at 7 p.m., several of them will speak about how their work is being hindered. Here you can register for the event.
03/26/2021: Free the El Hiblu 3 +++ Federal police claim suicide attempt in new Moria was 'cooking accident' +++ UN calls for nearly 5 billion euros in aid for refugees from Syria
Two years ago, more than 100 people were rescued from drowning in an inflatable boat from the oil tanker El Hiblu, which was on its way to Libya. Three teenagers aged 15, 16 and 19 persuaded the crew to bring the people to Malta because they were facing torture and imprisonment in Libya. The three became known as El Hiblu 3 and are now on trial in Malta.
Here you can find the joint statement of 27 organisations, demanding the release of the defendants.
03/25/2021: UK to deter refugees and move them to asylum centres outside the country +++ European Council negotiates new EU-Turkey deal +++ Kenyan government to close refugee camps, pushes for redistribution of hundreds of thousands
The European Council is meeting today and tomorrow and is also negotiating a new refugee deal with Turkey. Unfortunately, the outcome threatens a new deal aimed at sealing off the country instead of providing serious protection for refugees. I wrote up what the problem is with the EU-Turkey deal here.
In his book "Move", Indian-American political scientist Parag Khanna predicts a century of global migration for all - and doesn't think it's so bad. Time spoke with him.
24.03.2021: EU Parliament refuses to confirm Frontex budget +++ Green parliamentary group calls for end to EU-Turkey deal +++ Precarious status for Syrian draft dodgers
23.03.2021: EU Commission seeks European coordination of sea rescue +++ Two-year-old girl dies after crossing to Canary Islands +++ Major fire in Rohingya refugee camp
A new contact group of the EU Commission met for the first time yesterday.l and declared the aim to coordinate sea rescue at European level in the future. According to the responsible Commissioner Ylva Johansson, rescued persons should also be brought ashore more quickly and sea rescuers should no longer be criminalised. This would be a major step forward compared to the current situation, in which rescuers face prison sentences and rescue ships are blocked. However, the EU Commission has been promising for years to take action against criminalisation, and so far there have been no visible successes. This can also be seen in the renewed arrest of the Sea-Watch 3.

A two-year-old girl died after crossing from Western Sahara to the Canary Islands. Paramedics initially resuscitated the hypothermic child, but she later died in hospital. Spanish Prime Minister Pedro Sánchez said the case was a "wake-up call for everyone's conscience." More background on the case and the dangerous Atlantic route can be found at El País.
22.03.2021: Sea-Watch 3 stranded in Sicily +++ Ocean Viking and French Coast Guard rescue people from distress at sea +++ Global water shortage leads to increasing refugee movements
Five EU border states call for greater cooperation in the distribution of refugees in the EU at a meeting in Athens. The meeting is overshadowed by serious accusations. Greek coast guard officials, for example, allegedly beat seven people and then threw them tied up into the sea. Three people are said to have died, says Turkish Interior Minister Suleyman Soylu. The Greek coast guard rejects the accusations.
03/19/2021: Denmark plans racist law +++ Samos mayor endorses confirmed pushbacks +++ Afghan refugees not safe in Turkey
18.03.2021: Important study on Moria and hotspots at the external borders +++ Massive criticism of EU-Turkey deal +++ Father sues Greek coast guard after death of his son
17.03.2021: Why the EU-Turkey-Deal failed +++ Duration of asylum procedures in Germany increases significantly +++ Residents complain against house rules in Freiburg shelter
The EU-Turkey deal was agreed exactly five years ago. Time was bought at great cost and not used. The result was undignified mass camps like Moria and a dependence on Erdoğan.
Here I have written down the background.

According to a recent analysis by migration expert Karoline Popp, the reception system for refugees on the Greek islands established with the EU-Turkey deal is "largely dysfunctional". Here you can find background information.
The report by Karoline Popp and the Expert Council on Integration and Migration can be found here.
16.03.2021: 10 years of civil war in Syria +++ Situation for Syrian refugees in Lebanon particularly difficult +++ New Corona Falls on Samos
15/03/2021: EU interior ministers discuss flight and migration +++ European Parliament questions Frontex on internal investigations +++ Cypriot government builds new wall
The interior ministers of the EU states met today to discuss the issues of flight and migration. They came no closer to a humane and common European refugee policy. The only thing they can all agree on is more intensive cooperation with third countries. In concrete terms: better isolation. You can watch the 25-minute press conference on the meeting here.
Also today, the European Parliament's Frontex Inquiry Group, of which I am a member, met. We are questioning members of the Frontex management board about their internal investigations. You can watch the session here.
The Europe magazine of the ARD reports in this video about brutal pushbacks by the Greek authorities and lets those affected have their say.
03/11/2021: Iuventa crew apparently charged on political grounds +++ Spain backs quick deportations in Canaries +++ 82 refugees from Greece land in Germany
Spain relies on quick deportations: Four flights a week to Western Sahara, with 20 passengers each. Now repatriations to Senegal are also beginning. An agreement with Mauritania also allows all those to be sent back there who have passed through Mauritanian territory or Waters have traveled.
03/10/2021: Council of Europe accuses EU of being responsible for thousands of avoidable deaths +++ 39 people drowned in Mediterranean +++ Deportation flight from Hanover to Afghanistan
09.03.2021: Fire in new Moria and untenable conditions for children +++ Greece builds new border fence +++ Spanish coast guard rescues 107 people
The Greens call for a reorientation of integration policy. "We have to answer structural problems with structural measures," integration policy spokeswoman Filiz Polat told the Deutsche Presse-Agentur. "That means, for example, moving away from short-term project funding to permanent funding for organizations."
03/05/2021: What's known about pushback allegations against Frontex +++ EU cooperation with Libyan coastguard could be extended +++ Smugglers pushed people into water off Djibouti, at least 20 drowned
Fearing fighting, more than 7,660 people have fled Nigeria for Maradi in Niger this year. The Maradi region in southern Niger is now hosting nearly 100,000 displaced people, including 77,000 Nigerian refugees. Despite border restrictions caused by the COVID-19 pandemic, Niger continues to provide access to asylum. The UNHCR provides information on its website.
04.03.202: Frontex Management Board suspects legal violations by the Agency +++ Frontex Inquiry Group meeting in the European Parliament +++ Italian Prosecutor calls for trial of Iuventa
03.03.2021: One year ago the EU-Turkey deal failed +++ Sea-Watch 4 is free +++ European Court of Human Rights rules: Hungary treats refugees inhumanely
Mar 02, 2021: Over 1600 attacks on refugees in Germany in 2020 +++ Man suffers heart attack during deportation from Bavaria +++ Around 5000 people have so far arrived in Italy on boats across the Mediterranean in 2021.
01.03. 2021: Infringement proceedings against Greece +++ Sea-Watch 3 rescues more than 300 people +++ Sea-Eye 4 christened
More than 150 people were intercepted by the Libyan coast guard on the Mediterranean Sea on Friday and taken back to Libya, where they face torture, detention and inhumane treatment. A total of 3700 people have already been intercepted on the Mediterranean Sea and brought back to Libya this year alone. Current figures can be found on the IOM Libya Twitter Channel. I also declare in this articlewhy we must not outsource sea rescue to Libya.
02/26/2021: Abbess on trial for church asylum +++ Alleged chain deportation from Austria to Bosnia +++ Tens of thousands flee Tigray
Abbess Mechthild Thürmer has been charged with granting church asylum to people who were threatened with deportation. She justifies her actions with the fact that the people would have been in danger of life and limb if they had been deported. The Tagesspiegel interviewed her.
02/25/2021: Woman in new Moria sets herself on fire +++ Seven-year-old child dies after fire in Greek camp +++ EU commissioner calls for faster investigation into Frontex allegations
In the so-called "anchor centres", i.e. closed mass camps in Germany, an asylum procedure takes an average of 77 days, while outside the camps it takes 82 days. Horst Seehofer's goal of significantly speeding up the procedures has thus been missed. Nevertheless the Interior Ministry is sticking to the camps because it's not about faster procedures at all, but about housing people outside settlements and separating them from active civil society. You can get more background at Migazin.
24.02.2021: Millions in aid for Rohingya from Myanmar +++ Italian freighter rescues 232 people from distress at sea +++ Mühlheim city council wants to take in 50 refugees from camps at the EU's external borders
02/23/2021: European Parliament launches investigation into Frontex +++ People drown due to disastrous Libyan coastguard operation +++ Situation in Canary Islands comes to a head
22.02.2021: Millions of people in Syria do not have enough to eat +++ Catastrophic conditions continue in the new Moria +++ Italian coast guard rescues 50 people from distress at sea
19.02.2021: Number of asylum applications in the EU drops massively +++ Aita Mari rescues 102 people from distress at sea +++ Lampedusa erects a memorial for drowned refugees
02/18/2021: Karlsruhe joins sea rescue alliance United4Rescue +++ Belgian policeman sentenced to one year probation for fatal shooting +++ Over 1400 people drowned in the Mediterranean in 2020
A Belgian policeman is sentenced to one year probation, after he killed two-year-old Mawda Shawri with a gunshot during a chase. The incident occurred in May 2018 when police tried to check a suspicious van and the driver tried to shake off police. There were around 30 people in the van, many of them refugees. The driver of the van was sentenced to four years in prison.

Germany has taken in another 26 refugee families from Greece. The plane from Athens landed in Hanover on Wednesday. However the German government's promise to take in a total of 1553 people from the burned-down Moria has not yet been kept. We have space and we should also take in more people again instead of letting them suffer at the external borders.
Feb 17, 2021: Greek government downplays lead exposure in new Moria +++ 'Open Arms' brings 146 refugees to Sicily +++ Near Calais, around 500 people wait to brave perilous crossing to UK
02/16/2021: Lawyers want to take Frontex chief Leggeri to court +++ Germany barely accepts recognised refugees from Moria +++ Refugees bring new life to Calabrian mountain villages
Many people left the Calabrian mountain villages in the past decades to build a new life in the north of Italy or Europe. The places became deserted. Now refugees are coming to these villages and bringing new life. Many communities there want to take in more people.
15.02.2021: About half of the refugees in the Mediterranean are taken to Libya by the so-called Libyan coast guard +++ Greek migration minister lies +++ Tens of thousands of children born in Germany are threatened with deportation
02/12/2021: Watson interviewed me on Frontex allegations +++ Mare Liberum report says human rights for refugees in Aegean systematically abolished +++ Municipalities charge very high prices for refugee accommodation
11.02.2021: IOM calls for end to pushbacks +++ Situation for refugees in Lebanon worsens +++ WDR shows film on situation at EU external border between Croatia and Bosnia
02/10/2021: European Parliament votes for my report on border procedures +++ Frontal21 reports on Frontex scandal +++ International law expert explains why refugees can hardly defend themselves when their rights are disregarded
09.02.2021: Pro Asyl demands deportation stop to Afghanistan +++ Storm on Lesbos +++ Syrian defends himself in court against the reading of his mobile phone by German authorities
A storm on Lesbos makes life there even worse. Five months after the fire in Moria and the promise that things would be different nothing has improved. The Greek government is preventing help on the ground and the other EU states are preventing evacuation because they don't want to take in the people. It's supposed to snow in the next few days. Check out my instagram channel for a video of the storm.
Yesterday, Sea-Watch observed, as a Frontex plane circled over a boat from which 32 people were being illegally towed back to Libya. If Frontex once again involved in illegal pull-backs to Libya, the border agency has thus again violated international law
Feb 08, 2021: "The world's worst border agency": My interview in Zeit Online on Frontex +++ Ocean Viking has a safe haven +++ Applications for family reunification from Greece are often rejected due to errors +++
02/05/2021: New accusations against Frontex director +++ Many boats in distress in the Mediterranean +++ Ocean Viking rescues more than 400 people from distress at sea
02/04/2021: Court bans deportation to Afghanistan +++ Germany takes in persecuted Belarusians +++ Refugees accuse Maltese authorities of torture
In Tigray, a humanitarian catastrophe is taking place before the eyes of the world. Many people are fleeing, there is a threat of famine. Refugees from Eritrea, who actually sought protection in Ethiopia and are now cut off from international aid, are suffering in particular. Amnesty International has started a petition calling on Prime Minister Abiy Ahmed to allow humanitarian aid. You can sign the petition here.
02/03/2021: Tareq Alaows wants to be the first refugee from Syria to enter the Bundestag +++ Situation on Greek islands remains inhumane +++ EU increasingly relies on drones
The EU pays more than 300 million for surveillance with drones. For four years now, unmanned systems have been flying in regular operation for the agencies of the European Union. Now individual governments are also receiving funding for drones at their borders.

US President Joe Biden has signed three executive orders aimed at reuniting separated refugee families and partially reversing the inhumane refugee policies of the Trump era. One directive aims to reunite 600 to 700 refugee children with their parents. You can find out a bit more background at BBC.

The doctor Gerhard Trabert travelled to Bosnia-Herzegovina to help people seeking protection. The Bosnian authorities have forbidden him to provide medical care to people in the burned-down Lipa camp. He did it anyway.

02.02.2021: Right-wing vigilantes in Gran Canaria call for "hunt for Arabs" +++ Greek migration minister talks up island jails and continues to lie about pushback reality despite evidence +++ The Ocean Viking is back in action
In a ZEIT interview Greek Migration Minister Notis Mitarachi continues to deny that the Greek government is conducting pushbacks and that the conditions in the camps are deliberately so degrading in order to deter. He conceals the fact that hundreds of heated containers could have been installed for accommodation for months if the Greek government did not prevent it.
02/01/2021: 127 people died in January trying to reach Europe +++ Rescue organizations continue to be prevented from doing their work +++ "Bergdoktor" donates €30,000 to Sea-Eye
According to the IOM, 127 people have already died trying to reach Europe in January. 105 drowned in the Mediterranean, 22 in an attempt to reach the Canary Islands from the African mainland. Despite the many deaths, civilian sea rescuers continue to be prevented from doing their work. You can read more about the disasters at the Project page "Missing Migrants" of the IOM. The Frankfurter Rundschau also reports.
The managing director of SOS Méditerranée Germany, Verena Papke, explains the tricks used by civilian rescue ships to make their work in the Mediterranean more difficult: Interview in the Frankfurter Rundschau.
"Bergdoktor" Hans Sigl donates 30.000 € to Sea-Eye. With his wife Susanne, the actor won 30,000 euros on Saturday evening in a celebrity special of the ARD show "Das Quiz mit Jörg Pilawa". The money will be invested in the ship SEA-EYE 4 of the eponymous German rescue organization, Sea-Eye announced on Saturday evening.
At the weekend Italian MPs wanted to travel to the border between Croatia and Bosnia-Herzegovina to find out about the illegal pushbacks. According to media reports, they were prevented from doing so by the Croatian police. The Croatian interior minister said the visit would damage Croatia's reputation. Although pushbacks have been documented and proven for years, Croatia continues to deny that systematic pushbacks are taking place.
01/29/2021: European Parliament investigates Frontex development in pushbacks +++ Austrian president condemns deportations in Vienna +++ Seehofer wants to restrict free travel in the EU
28.01.2021: New podcast episode on the situation of refugees in Bosnia +++ Spanish government builds mass camps +++ Frontex stops operations in Hungary
01/27/2021: Court bans deportations to Greece +++ Refugee children on Lesbos suffer more than ever +++ Museum of Jewish Refugees in Shanghai reopens
Thousands of Jews fled from the National Socialists to Shanghai. The reopened Shanghai Jewish Refugees Museum records this little-noticed part of history and documents the fates of Jewish refugees.
The Waz has published a short video about this.
01/26/2021: Floor of new Moria poisoned with lead +++ Thousands of people stranded in Canary Islands +++ More refugees try to reach Italy via Albania
Fleeing people fight their way through snow across the Alps. In the snow and freezing cold, people try to cross the mountains to France or Austria. Many report being turned back, so-called "pushbacks", by the French or Italian police, others report mistreatment or harassment. T-Online accompanies people on the run in this video.
01/25/2021: Ocean Viking rescues 373 people +++ People flee rising violence in West Africa +++ Virtually no political refugees from Hong Kong in Germany
01/22/2021: Frontex chief Leggeri apparently obstructs investigation +++ Ocean Viking rescues around 140 people +++ ECHR examines conditions in Greek camps
01/21/2021: Biden plans right to stay for millions in U.S. +++ 43 people die off Libyan coast +++ Journalist to be deported from Germany to Pakistan
20.01.2021: Broad alliance calls for evacuation of Bosnian camp Lipa +++ Fewer and fewer refugees reach Greece and the EU +++ Frontex delays recruitment of human rights observers
An alliance of around 140 organisations calls for the immediate evacuation of the Lipa refugee camp in Bosnia and the reception of those seeking protection in the EU. "The images from Lipa are harrowing" reads the appeal signed by Pro Asyl, Seebrücke, Leave No One Behind and church associations, among others.
Frontex was to recruit 40 people by 5 December to work on human rights monitoring at the agency. So far, not a single person has been hired, while the agency has been shown to have committed serious human rights abuses in recent months.
19.01.2021: Debate on external borders in the European Parliament +++ Baker prevents deportation of his apprentice +++ Another 37 people disappeared on the Mediterranean Sea
18.01.2021: Sleet on Lesbos +++ "Anchor centres" miss their target +++ Hungary continues to unlawfully deport asylum seekers
14.01.2021: Frontex director criticised after being questioned in Bundestag +++ Refugees in Bosnia desperately trying not to freeze to death +++ Germany taking in fewer refugees rescued from distress at sea than promised
01/13/2021: Storm on Lesbos worsens situation in new Moria +++ Frontex chief in Bundestag interior committee today +++ Hungary warned by Commission

Jan 12, 2021: EU anti-fraud agency launches investigation into Frontex +++ jetzt.de publishes chronicle of 2020 Mediterranean situation +++ Deportation flight to Afghanistan to take off today
11.11.2021: New Moria flooded again +++ Moonbird reconnaissance plane back in action +++ Number of asylum applications in Germany down for fourth year in a row
The new Moria is flooded again and according to the weather forecast, it's supposed to keep raining all week. All promises to improve conditions on the Greek islands have been broken.
The Moonbird flies again. This will allow Sea-Watch to continue its aerial reconnaissance mission over the central Mediterranean.
Nov 08, 2021: Ocean Viking launches new operation in the Mediterranean +++ French baker goes on hunger strike to prevent deportation of his apprentice +++ Six times fewer people arrived on Greek islands in 2020 than in 2019
More than 700 refugees and migrants have already arrived on the Canary Islands this year.
In this new podcast the Border Violence Monitoring (BVMN) talks about the situation of refugees, criminalization of refugee assistance and the activities of the extreme right in Serbia.
07.01.2021: Greece puts people's lives in danger, Turkey saves them +++ Balkan route: Pushbacks by Frontex at the Greek-Albanian border? +++ Family reunifications take a long time in Germany
More and more people in Greece are trying to reach Western Europe via Albania. Many report illegal "pushbacks" to the Greek side of the border – with the participation of the EU Border Management Agency.
06.01.2021: Cultural workers demand to help the refugees in Bosnia +++ German government does not plan to accept refugees from Bosnia +++ Italy arrests rescue ship Open Arms
In an open letter cultural workers, among them some former war refugees, demand to help the protection seekers in Bosnia-Herzegovina and not to let the people freeze in winter. They criticize the cynical policy of the EU, the brutal pushbacks by Croatia and the inhumane accommodation by Bosnia-Herzegovina.

The federal government plans by their own account no reception of protection seekers from Bosnia and Herzegovina. The Redaktionsnetzwerk Deutschland commentsIt is cynical how the EU makes politics on the back of freezing refugees in Bosnia.

Sea-Eye sues Italy for blocking the Alan Kurdi. Italy also imposed a Driving ban for the Spanish rescue ship Open Arms, which just rescued 265 people from distress at sea.
The journalist Franziska Grillmeier reports from Lesbos and says in an interview with Radio Eins: "A permanent camp is to be built on Lesvos by September 2021. The island and camp residents look forward to this with great concern, because after five years of mismanagement, there is no longer any confidence that things will get better."
05.01.2021: Protection seekers in Bosnia to freeze throughout winter +++ Pro Asyl reveals inhumane deportations from Germany +++ 83 protection seekers deported to civil war country Libya
04.01.2021: Pro Asyl demands admission of protection seekers from Bosnia +++ Open Arms rescues 265 people and can enter Sicily +++ Esslingen becomes "safe haven
12/23/2020: Major fire in Bosnian refugee camp +++ People from new Moria address EU in open letter +++ German government supports Croatian border police even though they torture people seeking protection
12/22/2020: Seehofer covered up Greek crimes +++ Saving the world without "the world" raise over €75,000 +++ Ocean Viking is free
Under pressure from the EU, the authorities in Bosnia and Herzegovina have now agreed to Bira camp into a container camp for 1500 refugees. The camp was built in April 2020 to quickly get refugees and migrants off the streets because of Covid-19. It was never intended for winter. The IOM therefore threatened to stop work in the camp, which would have made 1500 people homeless.
21.12.2020: Development Minister Gerd Müller denounces conditions in the new Moria +++ Thousands of people die on the run, most on their way to Europe +++ Onset of winter threatens thousands of refugees in Bosnia
18.12.2020: Politicians* demand admission of people from Moria +++ "Los for Lesbos" publishes videos on the situation at the external borders +++ Hundreds of non-infected people are quarantined in Hessian refugee shelter
88 refugees from Greek camps arrived in Germany on Thursday. A total of 19 sick children landed in Hannover together with their so-called nuclear families. In addition, there were two unaccompanied minors who were brought to their mother living in Germany under the Dublin family reunification agreements. Since April, Germany has thus taken in a total of 1519 people from Greece, it said.
Resettlement and ethnic cleansing, forced deportation and flight: The historian Andreas Kossert has written a narrative about flight and expulsion.
17.12.2020: ECJ rules: Hungary violates EU law with asylum rules +++ Constitutional Court in Weimar rejects AfD complaint +++ AA confirms internally: intolerable conditions on Lesbos
16.12.2020: Interior Ministry to carry out collective deportation to Afghanistan today +++ Around 3000 homeless refugees face winter in Bosnia +++ New Moria is flooded
The UNHCR turns 70. The UN Refugee Agency was founded when millions of people were displaced after the Second World War, became stateless and in some cases could never return to their homes. At that time, most of the world's refugees came from Europe. Actually, the UNHCR was only supposed to exist for a few years, but unfortunately flight and displacement became a constant in our world. Today, more than 80 million people worldwide are on the run.
At a deportation center in Saudi Arabia, Human Rights Watch (HRW) says. Hundreds of migrant workers detained in inhumane conditions. Wardens had tortured and beaten some of them. Between October and November, at least three people are reported to have died in the custody of the Saudi authorities. These conditions also explain why people from Syria tend to fly to Turkey and Europe rather than Saudi Arabia.
15.12.2020: Seehofer fails to reach agreement on European asylum system +++ Greece obstructs NGOs from helping refugees +++ Sea rescuers say more and more minors fleeing across Mediterranean Sea
Interior Minister Seehofer actually wanted to resolve the conflict within the EU over a new asylum law this year, but he failed to achieve his goal. The MEP Erik Marquardt criticised the German Presidency for not having taken a step closer to a common asylum system.: "We are in for another winter of unheated tents and violence against protection seekers. To end these undignified conditions, we don't need a new pact, we need EU law to be enforced and EU governments to step forward and not allow the EU to let protection seekers freeze to death."
Greece has von the EU has received 2.8 billion euros for refugee care from 2015 to date.. In relation to the number of people admitted, this is more than any other country in the world has received per capita. Nevertheless, the situation is terrible and it is also made more difficult for NGOs to help. Erik Marquardt says: "The effort and the obstacles that are put in the way of the organisations are largely underestimated. It is also hardly possible to get access to the camp in order to supply the people with food".
12/14/20: Pro Asyl calls on European Parliament to prevent new migration pact +++ Greek border guards allegedly mistreated refugees in new Moria +++ IOM threatens to close camp in Bosnia
In the refugee camp Lipa in Bosnia hundreds of refugees spend the winter, partly only in plastic tents. It is connected neither to the water nor to the electricity grid and can only be reached via a dirt road that now resembles a mud track. IOM has given the central government an ultimatum. If no solution is found for the camp, the IOM will abandon it..
The fact that more and more people flee across the Atlantic to the Canary Islands has also with the conflict in Western Sahara to do. In November, the Polisario called off the ceasefire with Morocco. Last week, the US became the first major state in the world to recognize Morocco's sovereignty over Western Sahara.
11.12.2020: Deportation stop to Syria ends +++ Deportations to Syria as PR for Seehofer +++ 400 people arrive in Gran Canaria every day
The FR comments: "Horst Seehofer is a master of the sham debate. He is proving that once more these days when he announces that he will lift the ban on deportations to Syria. If Germany still ends up deporting no one to Syria, Seehofer won't explain to the people that the government is also bound by the law. No, he will blame the SPD and the Greens. That's how you damage democratic discourse."
12/10/2020: More than 80 million people on the run +++ German government takes in far fewer refugees than it should +++ Around 3000 homeless refugees freeze in Bosnia-Herzegovina
According to IOM, around 3000 refugees are currently homeless in Bosnia and Herzegovina. Most of them are currently freezing in the forests not far from the Croatian border. The local authorities in the canton of Una-Sana closed several camps at the end of September on the grounds that they consider them to be pull factors. In reality, the aim is simply to get the refugees out of the cities and towns.
9.12.2020: Greece dumps refugees at sea after arrival on Lesbos +++ New Moria likely built on contaminated soil +++ Overfishing by European crawlers leads to flight and migration
The EU Commission wants a common European refugee policy: it has proposed a pact for asylum and migration and thus wants to reorganise one of the most difficult EU issues. Unfortunately it is relying on deterrence, mass camps at the external borders and cooperation with dictators. SWR Aktuell reports.
Even serious criminals should not be sent to the dictator Assad. The Federal Foreign Office describes the serious human rights violations in Syria in a situation report. Deportations from Germany are out of the question, comments the Tagesspiegel.
8.12.2020: Initiatives call for deportation stop +++ Turkish coast guard rescues people pushed by Greece in Aegean +++ Three months after Moria fire, conditions remain catastrophic
Three months ago, Moria burned down. From the ashes arose a new and even worse Moria. The Deutschlandfunk and Arte have published recommendable documentaries on the current situation.
Dec 7, 2020 El Hiblu 3 faces years in prison +++ Celebrities help fight prejudice with facts +++ Thousands flee Tigray for Sudan +++
There is a lot of prejudice against refugees. 17 celebrities have joined Lot for Lesbos teamed up and rebut one prejudice with facts.
According to the United Nations, more than a thousand people have again fled from the embattled Tigray region in northern Ethiopia to neighbouring Sudan. A total of 47,000 refugees have now arrived in Sudan, he said. The UN refugee agency welcomed the Ethiopian government's willingness to allow humanitarian aid deliveries to Tigray.
In the month of November, the Aegean Boat Report documented a total of 28 illegal pushbacks by the Greek coast guard. In the process, 606 people, children, women and men, were deprived of their fundamental right to asylum.
12/4/2020 Frontex chief lied during questioning +++ 8157 refugees and migrants landed irregularly in Canaries in November +++Bangladesh resettles Rohingya on inhospitable island
12/3/2020 Thousands of asylum claims by people from Afghanistan wrongly rejected +++ Lots for Lesbos 2 launches +++ Hard winter ahead for refugees on Balkan route
Almost 10,000 refugees from Afghanistan have appealed against rejected asylum decisions since the beginning of the year. and got it right 59.1 percent of the time. Accordingly, a total of 5644 negative asylum decisions for Afghan asylum seekers were overturned. The decisions in the remaining cases are also ambiguous.
About two-thirds of immigration to Germany in 2019 was from other European countries. As in 2018, the main country of origin of immigrants was Romania, with a share of just under 15 per cent. This was followed by Poland and Bulgaria. In the area of refugee migration, Syria remained the most important country of origin - 27.6 per cent of all asylum applications were submitted by Syrians. The number of people applying for asylum in Germany fell in 2019 for the fourth year in a row.
12/2/2020 MEPs call for consequences after Frontex involvement in pushbacks +++ Frontex sues NGO +++ Eritreans demand family reunification
Frontex takes "Ask the State" to court, after they repeatedly helped to uncover illegal machinations of the EU agency. It is very unusual at the EU level to hire private lawyers for information requests and then demand these costs from civil society organisations. In view of Frontex's budget of billions of euros, one must assume that this is pure harassment of critical civil society.
12/1/2020 Frontex chief to be questioned by MEPs today +++ Overcrowded camp in Canaries cleared +++ Bundestag MEPs barely spoke about situation in Lesbos
11/30/2020 German federal police officers involved in illegal pushback. +++ Journalists accuse Greek authorities of obstructing their work +++ More surveillance and police in the English Channel.
11/27/2020 Frontex chief lies to public +++ Seehofer wants to deport people to Syria where they face murder, torture and forced recruitment +++ Thuringian initiatives call for deportation stop
11/26/2020 At least eight people drown off Lanzarote +++ Mediterranean countries demand more European solidarity +++ Thuringia Greens want to sue Seehofer
Thuringian Greens want to file suit against Seehoferbecause it prevents the state from taking in more refugees than is provided for in the nationwide distribution key. Astrid Rothe-Beinlich explains: "Thuringia should now also file a lawsuit. After all, it is the right of a federal state to set up such an admission programme for humanitarian reasons or reasons of international law. Seehofer's refusal to Berlin's and Thuringia's state admission programs is simply untenable in the view of many legal experts."
Corona in refugee homes. No chance of keeping distance rules: If Corona breaks out in a refugee shelter, quarantine has severe consequences. The people inside are fenced off. According to refugee organisations, however, refugees could be much better protected if they did not have to stay in the huge collective accommodation for so long as a matter of principle.
11/25/2020 Frontex covers up human rights abuses +++ Spain sends police to Senegal +++ Protests against police violence after eviction of refugee camp in Paris
11/24/2020 Number of resettlements at an all-time low +++ Switzerland threatens to withdraw Frontex officials +++ Refugee protests in Paris
A refugee boat has wrecked off the Greek tourist island of Rhodes. Ten people were apparently able to swim ashore. A fugitive was killed.
11/23/2020 Spain sets up mass camps in Canary Islands +++ UN expects up to 200,000 new refugees from Ethiopia +++ Greek authorities criminalize activists
11/20/20 Military service is a reason to flee +++ Council of Europe anti-torture committee raises allegations against Greece +++ Croatia's government under pressure over pushback videos
Military service is a reason to flee. The issue has been disputed between German courts for years, now the European Court of Justice has provided clarity. Syrian men who left their country because of the threat of military service will in future be able to enforce comprehensive refugee protection under the Geneva Convention. The Federal Office for Migration and Refugees (BAMF) had previously only granted them subsidiary protection in many cases. ProAsyl sees the judgement as a success and criticises the BAMF: "In recent years, the Federal Office for Migration and Refugees has unjustly denied numerous Syrian conscientious objectors the refugee status to which they are entitled."
11/19/2020 Video evidence on pushbacks at Croatia's external border +++ Greece continues to rely on mass camps on islands +++ In Gran Canaria, residents protest for refugee rights
11/18/2020 Greek authorities issued order for pushbacks +++Berlin Senate sues Seehofer +++ Hesse's 81% to accept war refugees
An discovery of a documentThe Greek coastguard has been ordered to push people back into Turkish waters, which repeatedly leads to life-threatening situations and is clearly in breach of the law.
Documents published by the Guardian show a coordinated and illegal attack on the rights of those trying to reach Europe via the Mediterranean. Specifically, it is about the EU's cooperation with the so-called Libyan coast guard.
11/17/2020: Canaries demand Madrid bring minors to mainland +++ Alleged pushbacks by Austrian officials +++ In Senegal, people mourn those who died en route to Europe
In Senegal, activists organised a commemoration on Friday for the more than 400 people who drowned on their way to Europe this year. Many contributions can be found on Twitter under the hashtag #LeSenegalEnDeuil. There was a call for one second of silence for each dead – total of eight minutes.
16.11.2020: Situation in Canary Islands comes to a head +++ Sea-Eye sends a new ship to the Mediterranean +++ AlarmPhone makes serious accusations against Malta
Sea-Eye presents a new ship. The Sea-Eye 4 is largely financed with 434,000 euros from the alliance for sea rescue United4Rescue. The ship is to be deployed as quickly as possible. You can participate here. The ship should be ready for operation as soon as possible, because many other rescue ships are currently blocked and only the Open Arms is currently operating in the Mediterranean. Only on Friday another 20 people drowned in a shipwreck.
The Musawi family fled from the war in Afghanistan to Lesbos. She experienced the inferno of Moria, slept on the street. Now she lives in the temporary new camp. How is she doing there? The father reports.
13.11.2020: Rescue ship Open Arms allowed to enter Italy +++ 90 people drowned off Libya +++ Member states at external borders reject Commission proposal on common asylum policy
Two boats carrying refugees sank off the coast of Libya. at least 90 people drowned. 47 survivors are said to have been brought ashore.
12.11.2020: Six people, including a toddler, drown in boat crash +++ Greek authorities push protection seekers, without food, onto island +++ EU demands answers on violence at Croatian border
11.11.2020: EU Commission gives ultimatum to Frontex chief Leggeri +++ Bishops demand reception of people on Greek islands +++ ARD reports on violence at Croatian external border
ARD reports, how Brussels, Berlin and co. ignore Croatian border violence and massive human rights violations by the Croatian police. The European Ombudsman said yesterday that an investigation is being launched into "possible human rights violations". Amnesty International criticizes: "Numerous human rights abuses, including beatings and torture, have been documented over the years. Carried out by Croatian police officers whose salaries may be funded by the EU."
The Bishops of the Protestant Church in Central Germany (EKM) call for an admission The German government has called for more refugees currently living on Greek islands to arrive in Germany before Christmas: "No refugee should have to live in a mass camp on a Greek island at Christmas. With the onset of winter, the situation there is worsening dramatically. The bishops appealed to Federal Interior Minister Horst Seehofer (CSU) to finally accept existing offers of help from municipalities and federal states.
New Turn of events in so-called BAMF affair. An anonymous whistleblower accuses the investigators in the so-called BAMF affair of not taking exculpatory material into account. The public prosecutor's office in Bremen has initiated proceedings.
10.11.2020: Frontex involvement in pushbacks must be investigated +++ German government to deport to Afghanistan again +++ Father of drowned refugee child arrested
Lockdown in Moria 2.0: Mare Liberum reportsthat the Greek authorities have so far failed to implement adequate Covid 19 measures for the camp, instead strict rules and draconian measures have been implemented. No mask even in your tent? 150 € fine! That's equivalent to two months of financial support for refugees.
9.11.2020: Refugee child drowns off Samos +++ Arrivals surge in Canaries and Lampedusa +++ Lockdown in new Moria
Worse than Moria: No hot water, no heating, no electricity – the residents of the refugee camp Kara Tepe on the Greek island of Lesbos are afraid of winter. Doctors without Borders calls for the camp to be closed immediately. Residents have been on lockdown since Saturday. The Greek authorities have now also started to provide assistance to residents who do not wear masks, to impose penalties, that most of them can't afford. Given the living conditions and the failed Corona policy in the mass camps, this seems like a bad joke.
The Bremen BAMF affair is smaller than assumed. At the beginning of the affair about machinations of the Bremen refugee office there were 1200 suspicious cases. Now only 20 of 121 charges are to be tried.
6.11.2020: Great Britain closes itself off +++ Criminalisation of civil society in the Western Balkans +++ Demand for a deportation stop for Roma in Germany
On the defense against flight and migration Britain increases its military presence in the English Channel. The UNHCR expressed "grave concern" in August that warships were being used against "small inflatable boats". This could lead to "dangerous and deadly incidents". Preventing migration was a key election promise of the Brexiteers.
11/5/2020: SOS Children's Villages call for decent housing for refugee children in Greece +++ Leipzig becomes "safe haven" +++ "Open Arms" rescues again
Greek police block the main gate of the new Moria. You prevents the residents from leaving the premises. NGOs run psychiatric clinics, schools and legal aid centres off-site. Many people now cannot make it to important appointments because of the restrictions.
Leipzig becomes the first city in Saxony to become a "safe haven". More than a year ago, the council decided to take in up to 100 people rescued from distress at sea each year and sent a strong signal to the state and federal governments. Now Leipzig is also part of the "Seebrücke" alliance and has decided to make funds available for operational sea rescue.
The Open Arms saves again. The ship is currently on its way from Barcelona to the central Mediterranean to save lives. The ship is operated by the Spanish NGO "Proactiva Open Arms".
In Serbia, demonstrations against refugees are on the rise. In Belgrade marched right-wing extremist groups a few days ago in Belgrade and demanded that the park not far from the bus station be "cleansed of migrants". In the border town of Šid, the right-wing group is organizing "Omladina Šida" Protests against refugees. There are currently around 6,000 refugees living in camps in Serbia and an estimated 1,200 outside the camps.
11/4/2020: This year already over 11,000 refugees landed on the Canary Islands +++ District of Constance donates to Sea-Eye +++ Bremen "BAMF scandal" was based on dubious documents
11/3/2020: Corona fire and infestation on Samos +++ Algeria drops thousands of refugees in Sahara +++ 900 protection seekers arrive on Lampedusa within hours
30.10.2020: 140 people drowned off Senegal +++ Camp Pikpa is cleared +++ New report on violence against refugees in Greece
At least 140 people have drowned in a shipwreck off Senegal. While trying to reach the Canary Islands, a boat caught fire off the Senegalese coast, then capsized. 59 people could still be rescued. This is the most serious shipping accident recorded so far this year. For weeks now, the number of arrivals on the Canary Islands has been rising massively. At least 414 people have died so far this year trying to reach the archipelago.
Human rights violations by FrontexMEPs from the Greens, the SPD, the CDU/CSU and the Left Party, including myself, are calling on the European Commission to act to restore the rule of law in the Aegean.
The Border Violence Monitoring Network has a new report which deals with violence against refugees within the borders of Greece.
10/29/2020: Frontex chief Leggeri comes under pressure+++ One in seven BAMF decisions complained about is overturned by courts +++ Around 200 protection seekers pushed out of Greece +++
Frontex chief Leggeri is coming under pressure, because his agency is involved in illegal pushbacks in the Aegean. Now the EU Commission is also expecting answers from the head of its border protection agency. The first parliamentarians are calling for his dismissal.
The EU naval operation IRINI assists the Libyan coast guard with repatriations of people trying to flee across the Mediterranean by providing information on the locations of boats. Legal experts criticise this because Libya is not a "safe haven".
10/28/2020: MSF calls for something to be done about the spread of Covid 19 on Samos +++ Four people die in the English Channel +++ Greece continues illegal practice of pushback
Despite clear evidence, Frontex still does not admit to involvement in pushbacks. The EU agency claims absurdly continues to claim that it has not violated any laws, but now wishes to verify this.
27.10.2020: EU Commission calls for accountability report from Frontex +++ Number of irregular entries from Turkey sharply reduced +++ EU decides to deploy large drones in the Mediterranean Sea
The European Union has decided to deploy large drones in the Mediterranean for several years, now Italy is following suit. The beneficiary companies from Israel and Italy have already carried out tests for Frontex in recent years. The Italian Ministry of the Interior is providing €7.2 million.
10/26/2020: Frontex involved in illegal pushbacks +++ Salvamento Marítimo saves 52 people from +++ Greek government to build new morias on islands
These in the Spiegel published research prove for the first time that Frontex officials know about the illegal practices of the Greek border guards - and are partly involved in the pushbacks themselves. Breaches of the law have become commonplace at Europe's borders. And the EU is letting it happen. Frontex officials publicly claim to know nothing about pushbacks by Greek border guards. Yet the agency has 600 officers on duty in Greece as well as ships, drones and aircraft. Still you can find the research results in more detail at Bellingcat.
10/23/2020: Seehofer to review deportations to Syria +++ New Moria to remain open through winter +++ Five people missing in the central Mediterranean Sea
Seehofer wants to examine deportations to Syria. So far, there has been a ban on deportations. Syria is one of the worst dictatorships in the world, where a dictator wages war against his own people and where people are systematically tortured and murdered.
22.10.2020: 15 dead in boat crash in Libya +++ Over 2000 protection seekers reach Canaries +++ Green youth set up over 1500 chairs in Augsburg
More than two thousand people seeking protection have reached the Canary Islands in two weeks: more and more people are trying to reach the islands via the perilous Atlantic route to enter the EU.
Greece Hires another 800 border guards. Of these, 600 are to be deployed on the Evros alone. Minister Mihailis Chrisochoidis explained this in militarised rhetoric, saying that it was intended to build up a "second line of defence".
In Germany there are now 200 safe havens. It is local authorities that are demanding to be allowed to take in people in need, but this has so far been prevented by the federal government.
21.10.2020: Alleged sexual abuse by Croatian police +++ Merkel rejects municipal reception of refugees +++ New camp on Lesbos worse than Moria
Protection seekers on the Balkan route have been according to a report in the Guardian whipped, robbed and sexually abused by Croatian police. The Danish Refugee Council documented these cases during pushbacks in just five days, between 12 and 16 October. One man reported being beaten with a branch and sexually assaulted. An examining doctor confirmed that sexual violence was clearly perpetrated against the man. Other shelter seekers reported that Croatian police officers forced them to undress and lay naked on top of each other. Police officers allegedly took selfies with the naked men.